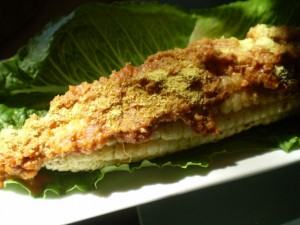 Yield: 4 servings as a side dish
So far, I've found nothing that isn't enhanced by my new summer rave: Romesco Sauce! 
Though I've cooked for as long as I can remember, Romesco Sauce never appealed…something about breadcrumbs in a sauce.  Boy, had I been missing out!  But all that changed in July when we enjoyed the last of several of my birthday dinners this year–I like to stretch it out–at the amazing Ubuntu in California's Napa Valley.  This veg restaurant deserves its Michelin stars in 2010 and 2011 and then some!
Their bar snack of chick peas enrobed in a delectable Romesco Sauce created a near obsession.  Because the sauce recipe I created made a "gracious plenty," as they say down South, I found several ways to enjoy it.  If golden grape tomatoes are still coming in in your area, be sure to try both my Vegan Golden Grape Tomato Tart with Spinach Pesto and Spicy Romesco Sauce and my Vegan Spicy Chickpeas Romesco a la Ubuntu featuring this delectable sauce.  And, definitely, before the last of the summer corn is gone, try this recipe which is less a recipe and more of a "procedure" with plenty of flexibility. 
4 ears of fresh corn, husks and silk removed (save 4 thin strips of the husks if you like to tie around the "stem" end of the corn as a decorative touch)
1 generous tablespoon of olive oil
5 tablespoons nutritional yeast, divided (optional but recommended)
pinch sea salt
approximately 1/2 cup Romesco Sauce (click on link for recipe)
optional: 4 Romaine lettuce leaves
Preheat oven to 450 degrees.  Pour olive oil into roasting pan and then roll each ear of corn in the oil, leaving them in the pan.  Sprinkle the corn with approximately 2 tablespoon of nutritional yeast, total, and a pinch of salt, turning to coat.
Roast for 20-25 minutes, turning after about 10 minutes, until desired color is achieved; just avoid drying it out.  Remove the corn from the oven and, when cool enough to handle, spread each cob with approximately 2 tablespoons of Romesco Sauce and sprinkle with a couple of teaspoons of nutritional yeast.  Serve on a lettuce-lined plate if desired.  And for a special touch, tie a strip of the reserved husk in a knot or bow around the "stem" end of the cob.
For 150+ additional seasonal recipes not on this website, I invite you to explore The Blooming Platter Cookbook: A Harvest of Seasonal Vegan Recipes.