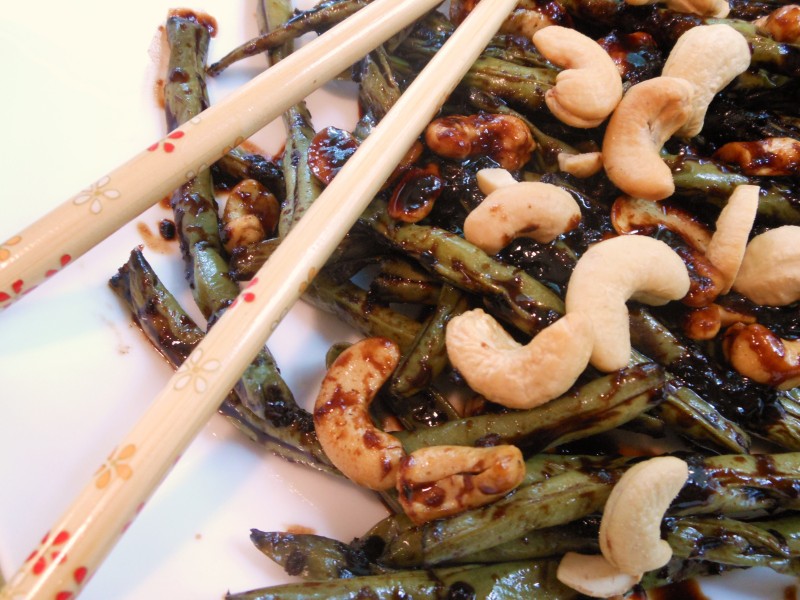 Yield: 2 servings (easily doubles)
This quick, vibrant colored and flavored dish becomes a meal with the addition of tofu or tempeh cubes added during the last two to three minutes of cooking.
It's my homemade version of one of my favorite dishes in Chinese restaurants.  My secret ingredient?  Chinese Black Bean Sauce!
1/2 pound fresh green beans, ends trimmed, lightly salted, and grilled over medium high in a grill pan for about 15 minute, turning periodically, or until lightly charred all over and very tender
1 tablespoon canola oil
2 teaspoons fresh grated ginger
3 medium garlic cloves, minced
1/4 cup soy sauce (I use a "lite" variety for less sodium)
1/4 cup rice wine vinegar
1 tablespoon sake (or mirin)
2 tablespoons Chinese Black Bean Sauce (available on international aisle of most grocery stores)
1/4 to 1/2 teaspoon Sriracha or your favorite hot sauce
1/4 cup water
1/4 cup lightly roasted and salted cashews (or halves and pieces) + a few more for garnish
While green beans are grilling, heat oil in a cast iron skillet (or wok) over medium-high.  Add ginger, and stir fry for about 1 medium, stirring continually, just to soften and turn slightly more golden.  Lower heat if cooking to fast.  Add garlic, and stir fry for 30 seconds, still stirring continually.  Add remaining ingredients except green beans and cashews and cook, stirring continually until thickened, about 2 to 3 minutes.  Add green beans and cook another 2 to 3 minutes or until beans are well coated and have absorbed some of the sauce.  Avoid over-cooking or the sauce will become too syrupy and tar-like.  During the last minute, stir in 1/4 cup cashews.  Transfer to a platter or a shallow bowl and serve with additional cashews for garnish.  This dish is fun and quite easy to enjoy with chopsticks.