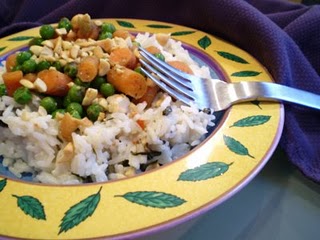 Yield: 4 servings (to truly serve 4, this dish needs something like a simple cucumber salad to round it out)
Just home from a week long Spring Break vacation, I challenged myself tonight to create a satisfying and healthy dinner using only ingredients I had on hand. (Read: I was too worn out from a day of travel to get enthusiastic about going to the grocery store not even a half-mile away.) Poking around in the pantry and ferreting around in the fridge and freezer revealed plenty of wholesome ingredients for a Thai-inspired meal. Following is the tasty result.
Rice:
1 cup water
1-14 ounce can lite coconut milk
1 cup Jasmine rice
1-5 inch stalk of lemon grass (tough green stalk removed), cut into 4 pieces
2 Kaffir lime leaves, torn in half
2 tablespoons minced fresh or fresh-frozen Thai basil (mine was the latter)
1 tablespoon minced fresh or fresh-frozen mint (again, mine was the latter)
2 tablespoons lime juice
2 tablespoons vegan fish sauce (it will usually say "vegetarian" on the label)
salt to taste
garlic powder to taste
Spicy Carrots and Green Peas:
2 teaspoons canola oil
1 large clove garlic, minced
1-2 teaspoons green curry paste (it's fiery, so start with 1)
1 generous pinch ground cumin
1 generous pinch ground coriander
1 cup baby carrots, cut on the diagonal into 3-4 pieces each
3/4 cup water
1 cup frozen green peas
1 tablespoon vegan fish sauce
salt to taste
Garnish:
1/4 cup finely chopped peanuts
4 sprigs Thai basil or mint
In a medium saucepan, bring water and coconut milk to a simmer. Stir in rice and next six ingredients and cook loosely covered over medium-low heat, stirring fairly frequently, until rice is tender and creamy, approximately 15-20 minutes. Season to taste with salt and garlic powder. Remove from heat. At this point, it is important to have vegetables prepared so that the meal can be served immediately, lest the rice become gummy.
So, as soon as rice begins to cook, heat oil in a large skillet over medium-high heat. Add garlic, curry paste, cumin and coriander and cook, stirring constantly, about a minute until mixture comes together. Stir in carrots just until coated with curry mixture. Then stir in 1/2 cup of the water and cook carrots a few minutes or until crunchy-tender. Stir in peas, remaining 1/4 cup water and fish sauce, and cook for a few more minutes until peas are heated through, but still bright green.
Immediately, divide rice among four shallow bowls and top with one-fourth of the vegetables. Garnish each serving with about a tablespoon of chopped peanuts and an optional sprig of fresh Thai basil or mint.