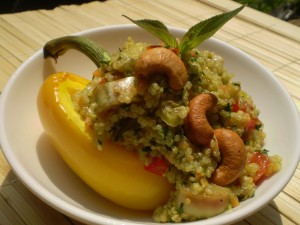 Yield: 4 servings
I've never been a huge fan of the flavor of typical stuffed peppers.  But I love bell peppers, including in Thai food.  So why not stuff them with a creamy coconut filling chock full of other ingredients in some of my favorite Thai dishes?  Why not indeed!  The result is spectacular.  Feel free to use Jasmine rice in place of the quinoa.  The latter is what I had on hand and, even though it's not typically Thai, I love it's flavor, texture, and fairly high protein.  Japanese eggplants and bell peppers were beautiful at our farm market today, so I used them, along with some spinach from the grocery store and some Thai basil from our garden, but feel free to use any of your favorite Thai ingredients like small cooked cubes of sweet potato, green peas, cilantro, mint, etc.  Just be sure to contrast colors and textures.  I love onion and meant to add some sliced spring onion but forgot, as I was juggling several different things, but I'm not sure they were needed.  Still, onion is always good, so add if you like.  Bottom line?  This recipe is very flexible.  Have fun! 
2 yellow bell peppers, halved lengthwise, membrane and seeds removed
1 cup quinoa
1-15 ounce can coconut milk (lite or regular)
generous pinch of sea salt
1 tablespoon olive oil
1 Japanese eggplant, cut into 1/4 inch dice (approximately 1 cup)
pinch of sea salt and more to taste
1/2 cup 2-inch pieces of carrot, finely chopped (I use a food processor)
1/2 of a large red bell pepper, cut into 1/4 inch dice
1 small mild-medium chile pepper, seeds and membrane removed, finely diced
2 large cloves garlic, minced
1-inch piece fresh ginger, peeled and grated
1/4 cup vegan fish sauce + an optional additional tablespoon (sold as vegetarian fish sauce in Asian markets)
Juice of 1 small-medium lime (approximately 1 tablespoon)
2 cups lightly packed fresh baby spinach, finely chopped (I use a food processor)
1 tablespoon minced Thai or Vietnamese basil
Garnish: sprigs of Thai basil, cilantro, or mint; whole or chopped roasted and lightly salted cashews or peanuts; and optional lime wedges
Preheat oven to 350 degrees.  Oil a small baking dish and add yellow bell pepper halves, cut side up.  Bake approximately 20 minutes.  Meanwhile, make filling.  In a 1-quart saucepan, place quinoa, coconut milk and a generous pinch of sea salt.  Stir well, partially cover, and simmer, stirring occasionally, for about 15 minutes or until tender, thick, and creamy.  While quinoa cooks, heat olive oil in a large cast-iron skillet over medium-high.  Add eggplant  and a pinch of sea salt and saute, stirring frequently, for about a minute.  Add carrot, red bell pepper, and diced chile pepper, and saute, stirring frequently, for another couple of minutes.  Add garlic, ginger, fish sauce, and lime juice, and cook, stirring frequently, for about another minute or until garlic and ginger is softened.  Stir in spinach and basil, stir, and heat through.  Taste and add additional salt and/or vegan fish sauce if desired.  Divide filling evenly among yellow bell pepper halves and return to oven for about 10 minutes or until filling is heated through and peppers are tender, but hold their shape.  Serve hot garnished as desired.