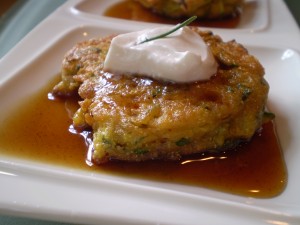 Yield: 8 fritters
I only stopped eating because there were no more.
These fritters are a beautiful brunch dish, appetizer or side dish.  Warmly spiced and golden with flecks of bright green, they are the perfect foil for my Vegan Pomegrante-Molasses Syrup and the tiniest dab of vegan sour cream.
Last night I attended an art opening with my close friends, Trish and Ken Pfeiffer.  When we returned to their house, I saw their bountiful rosemary bush and lamented that mine had not done well this summer.  So Trish snipped me off a big bag full of beautiful piney stems.   Once home, I drifted off to sleep thinking about what delectable dish I would make with it.  Actually, I went to sleep watching a devastating program about the 9/11 terror attacks, whose 10th anniversary is today, but my dreams were perfumed with rosemary.
I should never walk the dogs on an empty stomach, but I did this morning, fantasizing for two miles about what I would whip up when we got home.  With a zucchini in the fridge from my last run to the farm market and North African flavors on my mind from what I've been cooking lately, I came up with Zucchini and Chickpea Flour Fritters flavored with some spices that scent the food from that part of the world.  
But, when I had lowered my nose into the fragrant bag of rosemary last night, something told me that it would be delicious paired with chipotle peppers in adobo.  Not having any, but instead having some chipotle chili powder, I used it and arrived at the non-traditional but subtlely intoxicating spice mixture, that makes these fritters extra special.
For serving, they are delicious topped with my chutney (search "chutney" on this site for some tasty ones), Moroccan Chickpeas and Eggplant, Marrakesh Olive Pesto and believe it or not,  plain maple syrup.  But if you want to send them right off the charts, by far the most simple, interesting, and addicting is my Pomegranate and Maple Syrup with a tiny dab of vegan sour cream.
Fritters
1/2 cup chickpea flour
1/2 teaspoon baking powder
1/8 teaspoon chipotle chili powder
1/8 teaspoon ground cumin
1/8 teaspoon garlic powder
1/8 teaspoon onion powder
1/8 teaspoon sweet paprika
1/8 teaspoon turmeric
Sea salt to taste
1/2 cup unsweetened soymilk
1 tablespoon minced fresh rosemary leaves
2 cups lightly piled grated zucchini, including the skin (avoid packing zucchini shreds)
Canola oil for frying
Pomegranate-Maple Syrup
Vegan Sour Cream
Rosemary leaves for garnish
Line a platter or plate with paper towel or a brown paper bag.  In a medium bowl, whisk together all fritter ingredients, except zucchini and canola oil, until well combined.  Avoid over-mixing.  Lightly fold in zucchini just until well distributed.  In a large cast iron skillet over medium-high, heat a 1/4-inch layer of oil.  Drop batter by rounded tablespoons into the oil and cook approximately 3 minutes on one side until golden brown.  Gently flip and repeat.  Lower the heat if necessary to allow you to cook the fritters for this amount of time, which they will need to be cooked completely through.  Note: the fritters may look golden and crispy on the outside, but not cooked completely through, which is why timing them is necessary.  Remove the fritters to the prepared platter or plate to drain and then transfer them to serving plates.  Serve immediately drizzled with Pomegranate-Maple Syrup and topped with a tiny dollop of vegan sour cream and a couple of rosemary leaves.
Pomegranate-Maple Syrup:
Note: This is not so much a recipe as the most basic of formulas.
1 part Pomegrante Syrup (available in Mediterranean and Middle Eastern markets)
4 parts maple syrup
Whisk together in a small bowl until well combined.