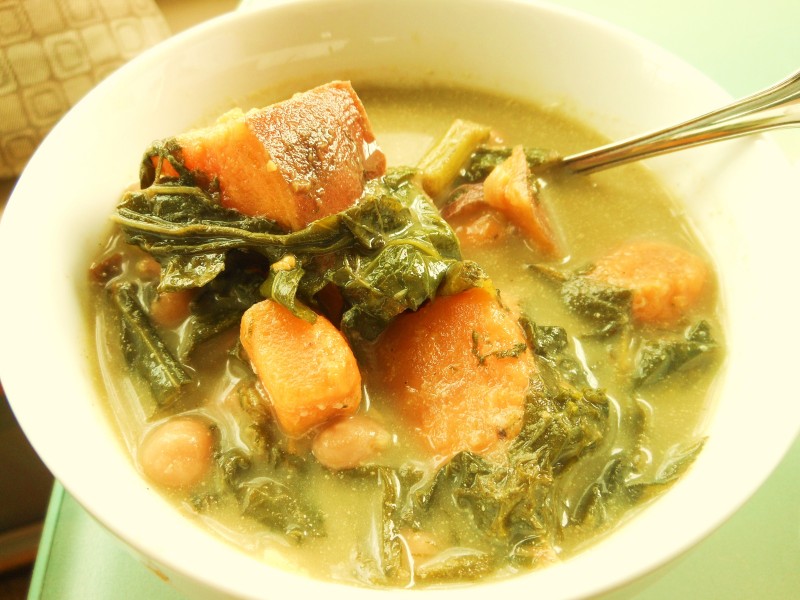 Yield: 4 to 6 servings
We are snowed in here under 10 inches in VA Beach!  And this soup was the perfect, warming lunch yesterday.  However, even if you aren't blanketed in snow, you will love this beautiful nourishing soup.
4 cups vegetable stock (or 4 cups water + 4 veggie or "no-chicken" bouillon cubes)
2 bay leaves
1 large sweet potato, cubed
1 tablespoon olive oil
1 medium yellow onion, diced
Sea salt
Freshly ground black pepper
1 large garlic clove, minced
6 cups chopped turnip greens
1-15.5 ounce can cannelini beans, rinsed and drained
3-5 inch stems fresh dill
3-5 inch stems fresh tarragon
2 tablespoons nutritional yeast (optional)
2 tablespoons non-dairy creamer (I use So Delicious coconut milk creamer)
In a covered 4-quart saucepan over medium-high heat, bring the stock and sweet potato cubes to a gentle boil, reduce heat to a simmer and cook potatoes for 10 minutes.   Meanwhile, heat the tablespoon of oil in a large cast iron skillet over medium-high.  Add onion and a pinch of salt and pepper, and saute about 7 to 8 minutes, stirring frequently until beginning to turn golden brown.  Add garlic, and continue sauteeing, stirring continually, for another minute or two.  Stir into sweet potato and stock mixture, along with turnip greens.  Simmer, stirring continually, until greens have wilted.  Stir in beans, dill, tarragon and nutritional yeast, and simmer gently for about 15 minutes.  Stir in non-dairy creamer, remove bay leaves, dill and tarragon, adjust seasoning if necessary, and serve immediately.  Note: Avoid boiling soup after creamer has been added to prevent curdling.