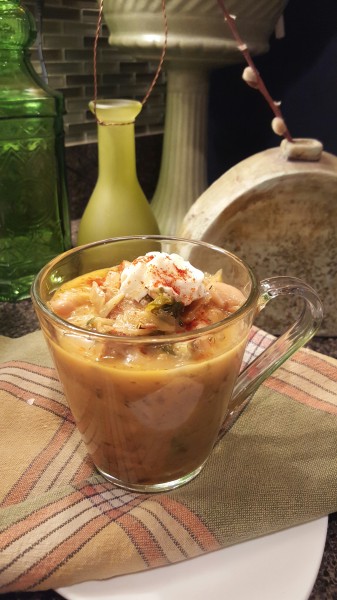 Yield: 6 to 8 servings
With a blanket of snow about to cover parts of the East Coast, soup–especially a hardy, but not heavy, one like this–is in order.
I know what you are thinking, "Sauerkraut in a soup?  No thanks."  Heck, lots of people don't care for sauerkraut at all, never mind in soup.
But perhaps the highest endorsement I can give this soup is from my next door neighbor.  He tends to some "guy things" here at my house since my husband died in July and I return the favor with food.  He LOVED this soup and he joked about surprising himself with his appreciation for my plant-based dishes.
I trust you and yours–vegan or not–will share his appreciation.  Try it on a big "guy's guy" and please let me know the verdict.
1 tablespoon olive oil
14 ounces keilbasa (I used Tofurky brand), sliced lengthwise and then cut crosswise into 1/2-inch pieces
1 medium yellow onion, diced
1/4 cup whole roasted garlic (I purchase from antipasto bar at grocery store)
14.5 ounce can sauerkraut, lightly rinsed, drained, and gently pressed
15 ounce can cannelini beans, rinsed and drained
1 teaspoon apple cider or malt vinegar
1 teaspoon whole grain mustard
2 teaspooons dried dill weed
1 teaspoon caraway seeds
1 teaspoon smoked paprika
Sea salt to taste
Freshly ground black pepper to taste
4 cups vegetable stock; or 4 cups water plus 4 regular-sized vegetable bouillon cubes; or 4 cups water plus 1 envelope dried vegetable soup mix (I used the latter because that's what I had on hand)
6 yo 8 cups lightly packed fresh baby kale (or mature kale, roughly chopped or torn)
1/4 cup soy or coconut creamer (the sweetness balances all of the tangy and acidic flavors)
Optional Garnish: vegan sour cream and smoked paprika
In a Dutch oven or large soup pot, heat oil over medium-high.  Add kielbasa and saute, stirring frequently, until it begins to develop crispy, golden-brown caramelized areas.  Add onion and continue sauteing and stirring until translucent, about 3 minutes.  Stir in remaining ingredients in order, except kale and creamer, bring to a gentle boil, reduce heat, and siummer, stirring occasionally, for about 20 minutes.  Stir in kale, just until wilted, and finish by adding creamer and heating through just before serving.  Ladle into mugs or bowls and serve topped with a dollop of vegan sour cream and a sprinkle of smoked paprika.