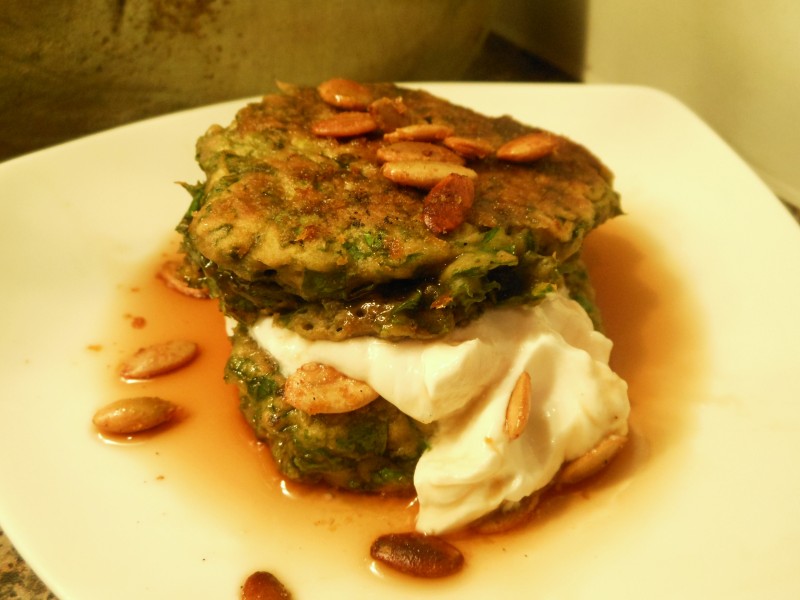 Yield: 12-2.5-inch cakes
(4 servings)
A recipe prepared by Giadia De Laurentiis on her "Giada at Home" Food Network program inspired this recipe: waffles with pancetta (ick!) and cinnamon.  The inspiration was certainly not pork(!); rather it was the combination of sweet and savory.
Since it was New Year's Day, I was wanting "good luck" foods, and I had already enjoyed griddled tempeh with maple syrup and vegan Hoppin' John for breakfast at the Sanderling Inn.  So, I was craving greens for dinner. And these "kakes" took the cake!
I enjoyed mine without any spices, but feel free to kick them up with curry powder or whatever your imagination seizes on.
1 cup all purpose or white whole wheat flour (I use the latter)
1 teaspoon baking powder
1/2 teaspoon baking soda
1/4 teaspoon sea salt or to taste
1/8 teaspoon freshly ground black pepper
1 cup unsweetened soymilk + 2 to 4 tablespoons, if necessary
1/4 cup vegan butter, melted in skillet
3 cups very finely chopped kale (I use a food processor for this task, processing the kale in two batches.)
Filling, topping, and garnish of your choice (I like vegan sour cream, cashew cream or a jam/chutney for the filling, maple syrup over the top, and a garnish of toasted pumpkin seeds or nuts, but the sky's the limit!)
Place all dry ingredients in a medium bowl.  Make a well in the center, add 1 cup soymilk and the melted butter, and whisk just until combined.  Stir in kale–it will look like way too much–and add additional soymilk to create a thick spoonable batter.
Lightly spray skillet in which butter was melted with nonstick spray and spoon batter into 4-2.5-inch circles, lightly smoothing top if necessary.  Cook a couple of minutes or until lightly browned, flip with a spatula and cook for an additional 2 or so minutes on reverse.  Remove to a plate and keep warm.  Repeat with remaining batter.
Serve with sour cream, cashew cream, chutney, etc., a generous drizzle of maple syrup, and a sprinkle of toasted pumpkin seeds or nuts.