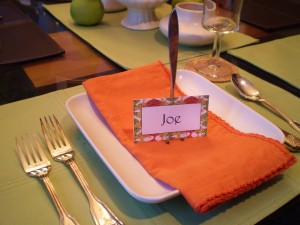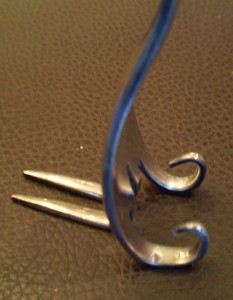 As some of you know, though my "day job" is as a high school art teacher, followed closely by cookbook author and blogger, I "moonlight" as a freelance writer.  One of my fun monthly gigs is the "DIY Decor" column for the Virginian-Pilot newspaper.  It keeps the creative juices flowing, but I accepted the job on one condition:  that I not have to do anything so "cutesy" or "crafty"–and definitely not "duck and bunny," that I wouldn't have it in my own home or, at the very least, give it to a friend with good, but different, taste than my own!   Fortunately, my wonderful editor allows me near complete freedom.
If anyone ever sees me with a Bedazzler in my hand, please tell me to set it down gently and ease away slowly!
I hope you enjoy this month's column which features cool place card holders made from antique forks, just in time for Thanksgiving.  And, so you have plenty of time before the beginning of Advent season, it also features my idea for a quick and clever Advent calendar (though, as my article says, this concept is adaptable to any celebration or holiday in which days are counted and little gifts are given on each of those days).
Happy Everything!