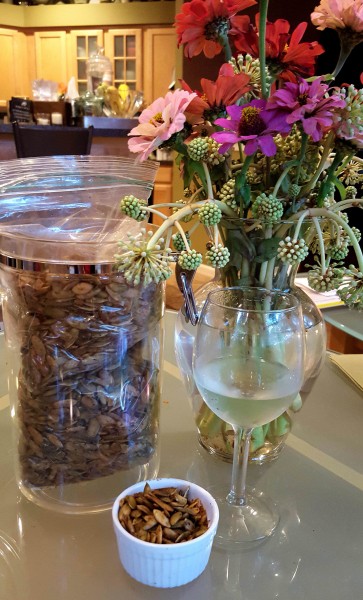 Yield: 2 pounds nuts
This flavor combination is a nod to by my beloved Hurricane Popcorn, which was inspired by the Hawaiian mainstay.
1/4 cup vegan butter (you can subsitute olive oil, but the flavor won't be as rich)
2 pounds raw pumpkin seeds (I purchase two 1 pound bags from Trader Joe's)
2 tablespoons nutritional yeast
1 teaspoon Nori powder or dulce flakes (to make Nori powder, break up and process a Nori sheet in a spice grinder)
1 teaspoon onion powder (or garlic powder for a slightly different, but equally delicious, flavor)
1 teaspoon dried minced orange zest (I purchase it prepared on the spice aisle)
1/2 teaspoon smoked paprika
1/2 teaspoon sea salt or to taste
Preheat oven to 350 degrees.  Melt butter in oven in 9 x 13″ roasting pan.  Remove from oven and add all ingredients, sprinkling dry ingredients over the whole surface, and stirring to evenly coat seeds with butter and other ingredients.  Roast for 20 minutes, stirring occasionally.  Remove from oven, cool in pan on a wire rack, and package in airtight containers.
These nuts will make a tasty and highly sought after holiday gift from your kitchen…if you don't eat them all first!