Veganism and sustainability go hand-in-hand.  What easier way to embrace sustainability, in this case, preventing discards from entering the waste stream, than through thrift store shopping?
As a frugal recycler–and who isn't even a little frugal in this economy?–I love good thrift stores (and consignment stores) almost more than antique stores.  Yes, I am my mother's daughter when it comes to antique stores, but thrift stores–as long as they don't have "that" odor (you know the one)–are ridiculous in terms of prices.
I rarely purchase clothes in thrift stores–though I hardly own a stitch of clothing or pair of shoes that didn't come from a consignment store–but when I drop off donations, or when I'm looking for something like board games or still life objects for my students, I always make a spin through the housewares.
This week  I scored big with this signed ceramic vase that seems made for our home.   About 8-inches tall and a sort of flattened shape, its clay body is terracotta and its surface decoration small slightly raised and slightly irregular cobalt blue squares  that create a checkerboard pattern.  I put it in our den which is painted a terracotta color, as you see in the photo, with a few cobalt blue and orange accents.
The colors were pulled out of a "crazy quilt" that my mother made me when I graduated with my M.A. , and she had never made a quilt before.  She made it from  fabrics from which either she or I had sewn clothing as I was growing up (another take on recycling).  I was so touched.  It is one of my top 3 cherished objects, partially because she made it, but also because it's gorgeous.  However, I have to admit, when I first saw it, I thought the color palette of mostly cobalt blue, orange, terracotta, minty green, off-white, and black was going to be challenging to work with.  Turns out it's fresh and unique, and a lot of fun to build around.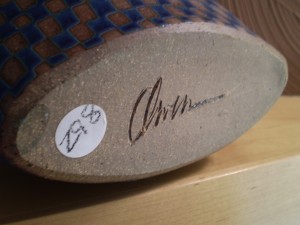 Back to the vase…guess what I paid for it?  Only $2.98!   So, go green: go thrifting!