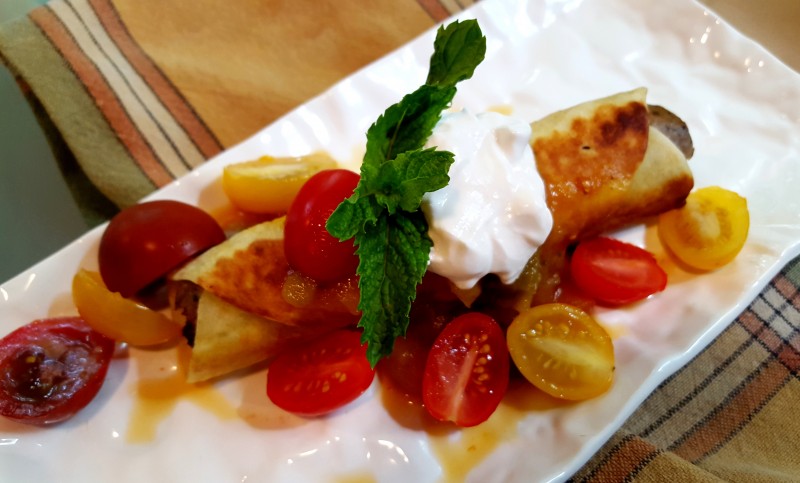 Yield: 4 servings
With a couple of grilled vegan sausages left over from testing my Vegan Sausage with Curried Peach and Kale Quick Compote and my husband's leftover tortillas from "date night" at a Mexican restaurant late yesterday evening,  the idea for these super simple sausage and tortilla rollups sprang into mind for my lunch today.
The deal was sealed by some tasty commercial pineapple salsa in the fridge which I spruced up with beautiful try-color artisinally grown tomatoes.  A dollop of sour cream and a sprig of fresh herbs (I chose mint to complement the pineapple salsa) was the only embellishment needed to creat a quick, lovel,y and satisfying restaurant-quality lunch (that is certainly filling enough for dinner and special enough for guests).
Ole!
4 cooked vegan sausages or hot dogs, still warm (I like to grill them on an indoor grill pan)
4-6 to 8 inch flour tortillas, barely warmed (so that they are pliable)
Optional: 4 strips of vegan cheese
1 generous tablespoon vegan butter or vegetable oil
1/2 cup salsa, prepared or homemade
Optional: Approximately 16 cherry tomatoes, halved (a tri-color blend is nice)
1/4 cup vegan sour cream
4 sprigs fresh herbs (cilantro, basil, etc.)
In a large cast iron skillet over medium-high, melt butter or heat vegetable oil.  If desired, split sausages lengthwise, insert a piece of cheese, and sandwich back together.  Wrap one tortilla around each sausage and place into skillet seam-side down.  Griddle for about 1 1/2 minutes on 4 "sides" to create a golden brown crust all around.  Serve immediately topped with 2 tablespoons salsa, 8 cherry tomato halves if desired, a tablespoon of sour cream and a sprig of fresh herbs.