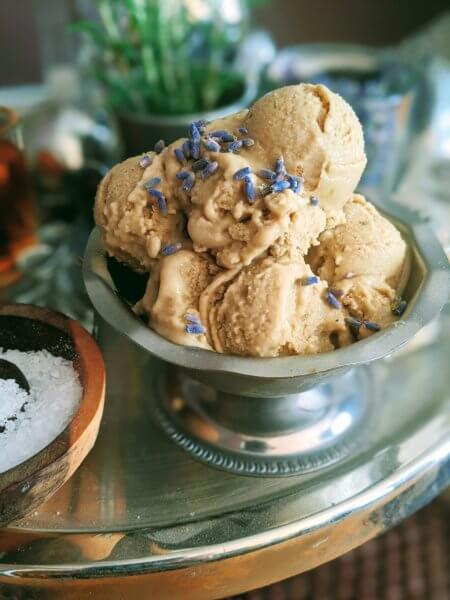 Yield: 1 quart
This beautiful, silky, and delectable treat tastes like a salted caramel ice cream with subtle notes of rosemary, lavender, bourbon, and fig.
1 cup non-dairy milk, divided
3 tablespoons cornstarch or arrowroot powder
10 fresh figs, pureed until quite smooth
3/4 cup brown sugar (I actually used one 1/2 cup swerve reduced calorie brown sugar and 1/4 cup regular brown sugar)
1/2 to 1 teaspoon sea salt
2 cups soy creamer or non-dairy half and half (I use Silk brand)
Approximately 5 sprigs fresh rosemary, about 4 inches in length
1 tablespoon culinary lavender
2 teaspoons bourbon
1 teaspoon vanilla extract
1/2 teaspoon almond extract
In a small cup or bowl combine 1/4 cup non-dairy milk with cornstarch or arrowroot, whisking until smooth. In a medium saucepan, whisk together all remaining ingredients and place over medium heat. Once mixture begins to boil, whisk in soy milk and cornstarch mixture, and cook 1 to 2 minutes, whisking continually and lowering heat if necessary, until mixture is very thick. Poor mixture through a fine strainer, pressing firmly on solids to extract all flavors. Cool mixture to room temperature, and then refrigerate, covered, for 2 to 3 hours or longer. Freeze according to your ice cream maker's instructions. Serve immediately as soft serve, or return to freezer to freeze more solidly. If too frozen when ready to serve, just soften at room temperature or in microwave for a few seconds.
#veganicecream #plantbasedicecream vegan #veganrecipes #veganfoodshare #veganfoodporn #plantbased #plantbasedrecipes #plantbasedfoodshare #plantbasedfoodporn