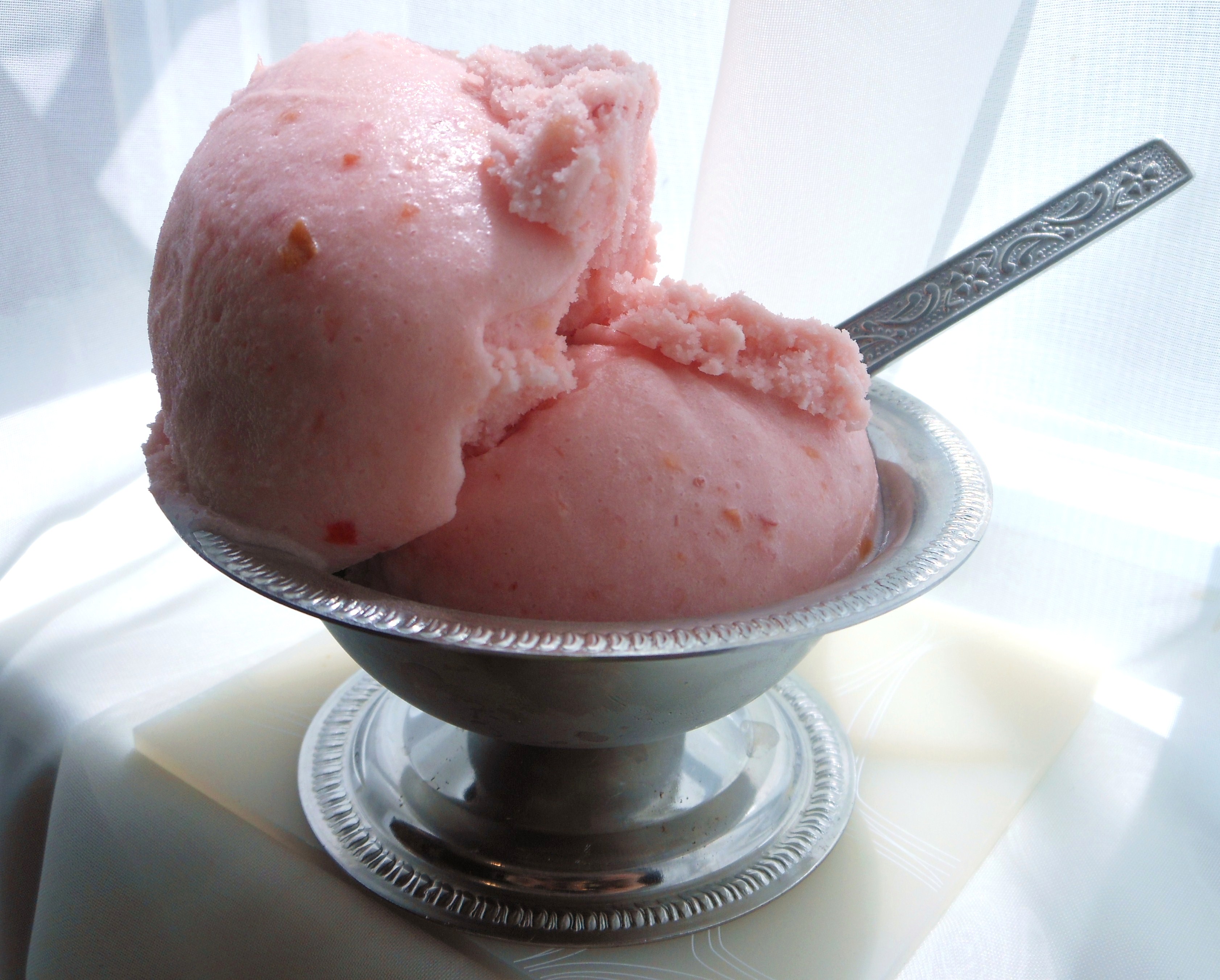 Yield: 1 1/2 quarts
If nothing says "summer" to you like peach stands and lemonade stands, then this ice cream will fairly shout "SUMMER"!
And, with just 4 ingredients it is easy-peasy-lemonade-squeezy.
I originally posted this recipe with soy creamer because coconut milk creamer wasn't so widely available then.  But, to me, those subtle coconutty flavor notes just add another reminder of summer–think tropical breezes–to this luscious and refreshing treat.
Bridal peachy-pink in color, it is just as fresh and appealing.  And I hope the kind folks at Go Dairy Free and So Delicious Dairy Free  agree, as I am hereby entering this recipe in their Snackable Recipe Contest to celebrate the release of the FREE Snackable eBook.
Note:  Because the unfrozen custard isn't terribly thick, I freeze it about 15 minutes longer than recommended, or about 45 minutes, and it is still the consistency of a thick milk shake.  Though I could easily consume the whole recipe like that, I resist and freeze it, covered, for several hours or overnight to stiffen-up to a scoopable consistency.  Even frozen, it remains on the softer side, which I love.  And, as you can tell from the photo, it still scoops beautifully.
Vegan Peachy Pink Lemonade Ice Cream
2 large peaches, pitted, quartered, and cut into chunks (I leave the skin on for gorgeous color and nutrition)
1-12 ounce can organic frozen pink lemonade (e.g. Trader Joe's brand)
2 cups So Delicious Coconut Milk Creamer
1/2 teaspoon vanilla extract
In the bowl of a food processor, process peaches and frozen lemonade until smooth with no chunks of peach remaining.  Transfer to a medium bowl and whisk in coconut milk creamer.  (If you try to blend all three ingredients together in most food processors, your cup will runneth over!)  Cover and refrigerate at least 3 hours or until very cold.  Freeze in an electric ice cream maker according to manufacturer's directions, about 15 minutes longer than normal to the consistency of a thick milk shake.  Transfer to an airtight container and place in freezer several hours or overnight to stiffen up to a scoopable consistency.