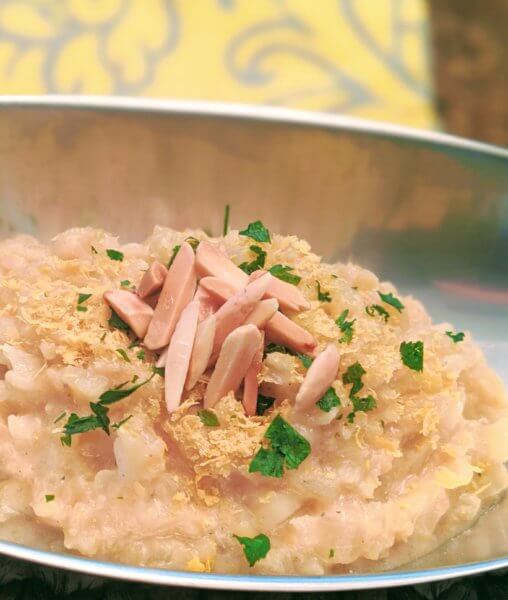 Yield: serves four as a side dish, two as a main dish
I love anything creamy, particularly if it also has a little bit of texture and layers of flavor. But I am quite a calorie counter and avid exerciser, so the wide availability of riced cauliflower and the fairly new availability in our area of Silk brand half-and-half inspired this dish. That and a powerful appetite on this Father's Day Sunday at midday. This dish is filling, but light and bright, quick, easy, and so pretty,. Just perfection.
2 cups water, divided
1 small onion finely chopped
1 vegetable bouillon cube or 1 teaspoon vegetable base
1 bulb roasted garlic or two to three cloves raw garlic, minced
10 ounces riced cauliflower
Zest of 1 small lemon
1/4 cup Silk brand vegan unsweetened half-and-half (Ripple brand is nice too, but if you can't find either or another brand of unsweetened vegan half and half, use coconut milk)
1/4 cup shredded vegan mozzarella
2 tablespoons vegan Parmesan
Garnishes: minced parsley, slivered almonds, toasted or not, a few nutritional yeast flakes or vegan parmesan shreds, fresh lemon slices, wedges, or more zest (in the photo, I used nutritional yeast flakes, parsley, and toasted slivered almonds)
In a large iron skillet over medium-high, bring 1/2 cup water to a simmer, add onion, and sauté/simmer until virtually all water is evaporated. Add remaining water, bouillon cube, garlic, and cauliflower, and simmer, stirring frequently, until virtually all of water is once again evaporated. Add remaining ingredients, lower heat if necessary, and stir until cheeses are melted and all ingredients are fully incorporated. Serve immediately topped with the garnishes of your choice.
#vegan #veganrecipes #veganfoodshare #veganfoodporn #plantbased #plantbasedrecipes #plantbasedfoodshare #plantbasedfoodporn #veganrisotto #plantbasedrisotto