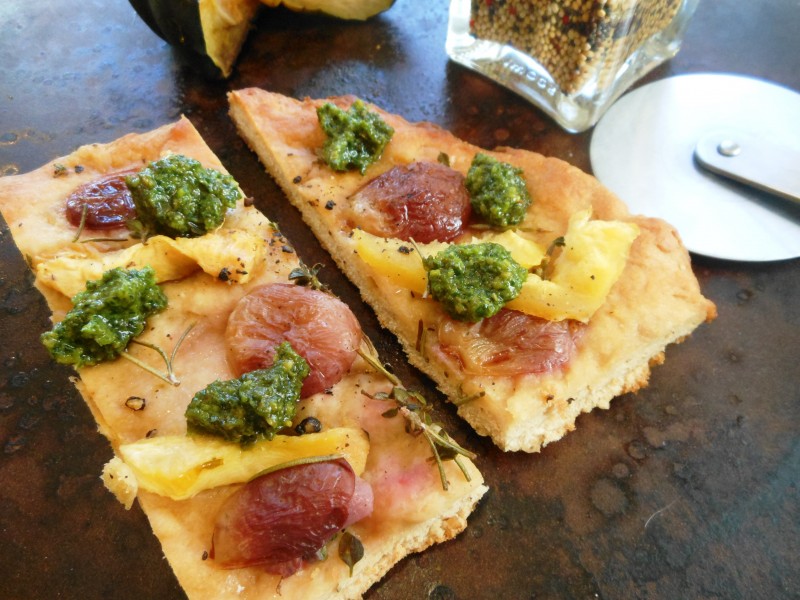 You can top this focaccia with anything, but I have to say that my combination of red grapes, roasted acorn squash and kale pesto is a keeper.  And it's so pretty for Christmas.
The simple focaccia dough recipe is only slightly adpated from one in a culinary magazine that I cut out years ago, but failed to credit.  Sorry!  My only change was to add a little bit of olive oil and to correct the number of ounces in the yeast package.  The recipe calls for 2 1/2 teaspoons of yeast, but that is a 3/4 ounce package, not a 1/4 ounce package.  Details, details!
3/4 cup warm water (105 to 115 degrees F.)
3/4 ounce (2 1/2 teaspoons) package fast-acting yeast (like Rapid Rise)
1/2 teaspoon turbinado sugar
2 cups unbleached all-purpose flour (I use white whole wheat)
1 teaspoon sea salt + more for sprinkling
1 tablespoon olive oil + more for drizzling
Red grapes, halved (in amount you choose to space about 1 inch apart)
Roasted acorn squash, cut in thin slices (enough to alternate with grapes)
2 teaspoons chopped fresh rosemary leaves
Kale pesto (use your favorite or one of mine)–amounts may vary– brought to room temperature
Lightly oil a 13 x 9 inch baking pan.  In a large bowl, stir together water, yeast, and sugar and let stand until foamy or about 5 minutes.  Gradually stir in 2 teaspoons olive oil followed by flour and salt to form a soft dough.  On a lightly floured work surface, knead dough with floured hands for about 5 minutes, or until smooth and elastic.  Shape into a ball, rub with remaining teaspoon of olive oil, and invert bowl over the top.  Allow to rest for 10 minutes.  Then, roll out dough into a 13 x 9 inch rectangle and transfer to baking pan, pressing gently into corners.  Let dough rise, covered loosely with plastic wrap, in a warm place for about 30 minutes or until doubled in bulk.  Preheat oven to 450 degrees.  Arrange grape halves and acorn squash in an attractive design over the top, drizzle with olive oil, sprinkle with sea salt, and bake in center of oven for 20 minutes or until golden brown.  Cool focaccia in pan on a metal rack.  Dot with pesto, slice, and serve.