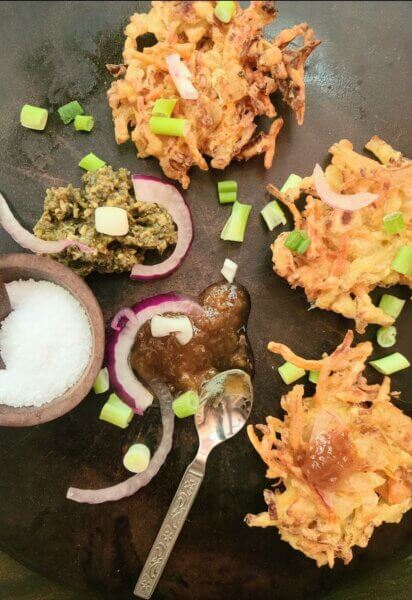 Yield: 1 serving as a meal, 2 as apps (easily multiplies)
Craving pakora after seeing them promoted on a social media website of a favorite restaurant, I decided to make my own with ingredients I had on hand. These go together in a flash and taste like you labored for hours.
While you make the pakora batter, heat scant 1/2 inch vegetable oil in large skillet over medium to medium high heat u til shimmering g on the surface.
1/4 cup shredded cabbage (any color)
1/4 cupshredded carrot
1/4 cup very thinly sliced yellow onion
1/4 cup all purpose flour
1/4 cup water
1/4 teaspoon sea salt
1/4 teaspoon garlic powder
1/4 teaspoon onion powder
1/2 teaspoon curry powder
Accompaniments: chutneys like cilantro, mango, mint
Garnish: sliced green onion
In a medium bowl, mix together all ingredients, except accompaniments and garnish with a fork. Create 4 mounds in skillet using 1/4 of batter for each. Gently press tops with a spatula and cook a couple of minutes or until golden brown. Adjust heat if cooking too slow or fast. Gently flip and brown on reverse. Remove to paper towels to drain and serve immediately with accompaniments and garnish.
#vegan #veganrecipes #veganfoodshare #veganfoodporn #plantbased #plantbasedrecipes #plantbasedfoodshare #plantbasedfoodporn #vegansofinstagram #vegansoffacebook #vegansofvirginia #plantbasedpakora #veganpakora #plantbasedindian #veganindian