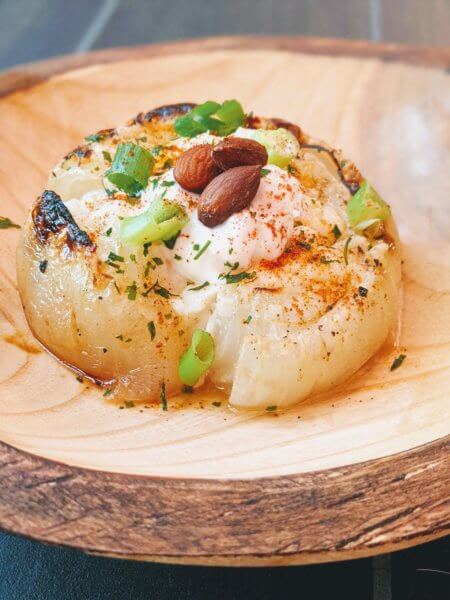 Yield: 1 main dish serving, but may also be served as a rich side dish (easily multiplies)
Similar to a loaded baked potato, only with far more juicy flavor, this loaded baked onion is liable to become a staple in your household.
I have never been a breakfast eater–Just give me a chai tea with non-dairy milk and I am good to go–so while I walked each of our dogs for their mile, from 10 until 11, I was contemplating what I might enjoy for an early-ish lunch.
I haven't been to the grocery store in a bit, so I was also mentally scanning the pantry and fridge as I walked. I wanted something that tasted decadent but was actually quite wholesome. For some reason, I lighted upon a baked onion. My luscious version turned out to be only 300 calories and ready in a snap because I actually cooked it in the microwave and then finished it under the broiler.
It is as addicting as homemade caramelized onion dip, but without the fairly empty calories of potato chips. Win-win!
1 medium yellow onion, peeled, and one quarter inch cut horizontally off top and bottom
Vegetable oil spray
Sea salt
Freshly ground black pepper
1 small clove garlic minced (about 1/2 teaspoon)
2 tablespoons shredded vegan cheese (I used mozzarella)
1 tablespoon vegan butter (I use a light version that is only 35 calories per tablespoon)
1 tablespoon vegan sour cream
Garnishes: A few pieces sliced green onion, minced parsley, three or so smoked almonds, and a pinch smoked paprika
Spray a gratin dish with vegetable spray, place onion inside, lightly spritz onion with soray, and sprinkle with a hint of sea salt and freshly ground black pepper. Cook uncovered in microwave on high setting for 10 minutes. Remove and gently cut an x into top of onion with a serrated or sharp knife, about half way or 3/4 of the way down, being careful not to burn yourself. Preheat broiler. Spoon minced garlic down inside onion and top with shredded cheese. Spritz again with vegetable oil spray and broil two or three minutes or just until top is bubbly and brown. Remove from broiler and top with butter, sour cream, parsley, green onion slices, smoked almonds, and smoked paprika. Serve immediately.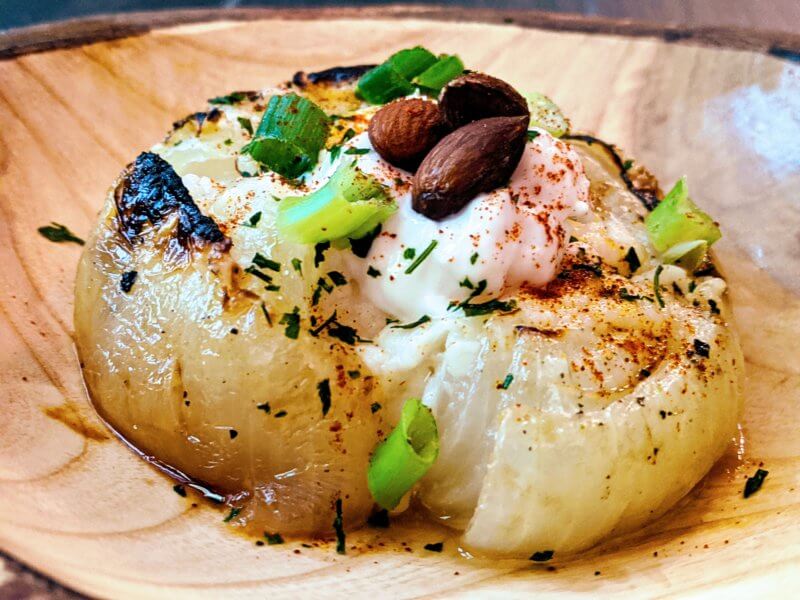 #vegan #veganrecipes #veganfoodshare #veganfoodporn #plantbased #plantbasedrecipes #plantbasedfoodshare #plantbasedfoodporn #veganbakedonion #plantbasedbakedonion