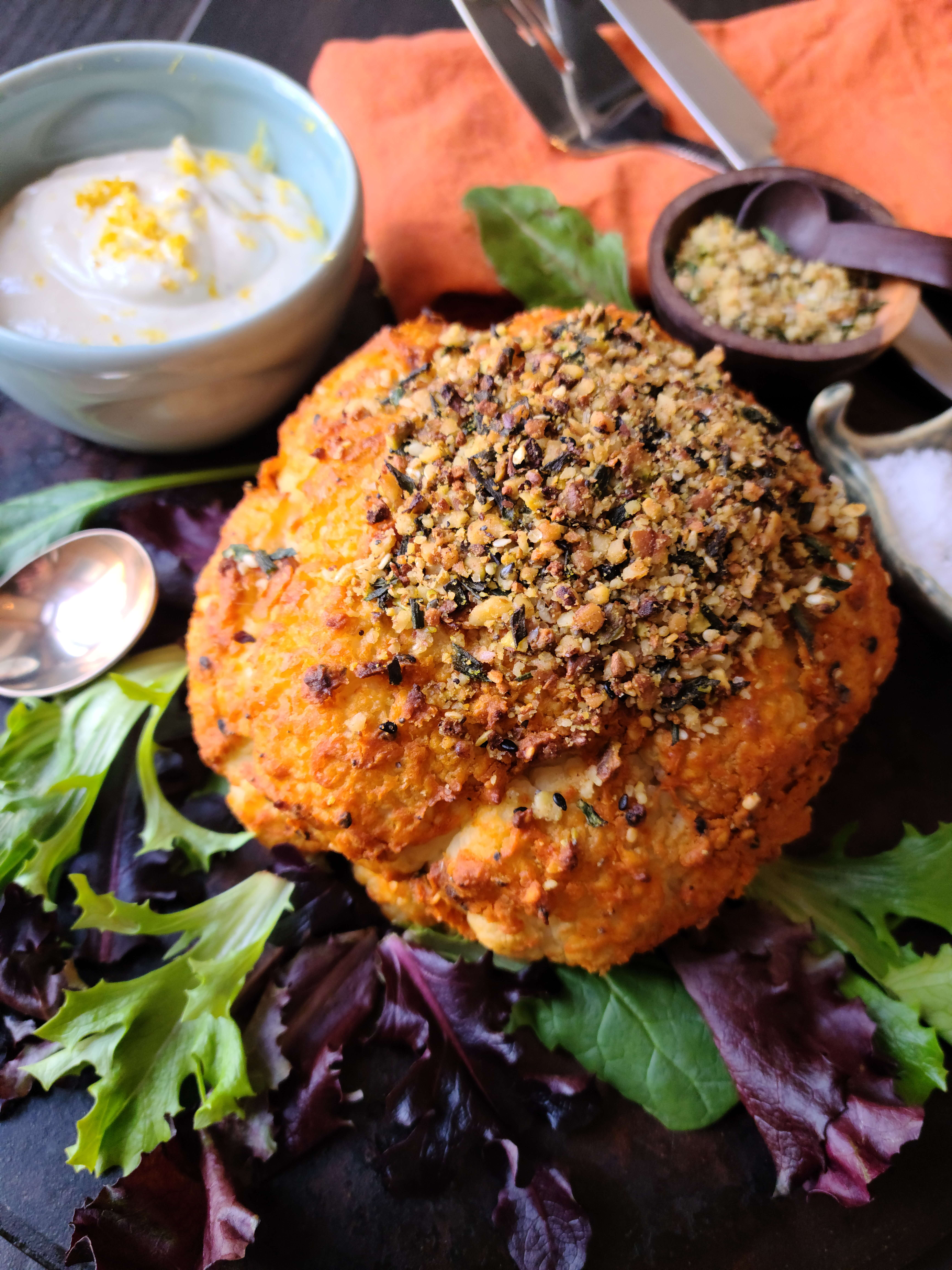 Middle Eastern Whole Roasted Cauliflower
Simple enough for a weeknight, and special enough for a holiday meal, this Middle Eastern-inspired twist on whole roasted cauliflower is a nutritious showstopper. Though quite low in calories, the flavor is high octane and the Better Than Sour Cream Sauce contrasts beautifully with the roast's rich golden color.
Whole Roasted Cauliflower
1 whole medium cauliflower, rinsed, and leaves and stem removed without detaching florets
6 tablespoons garlic hummus (or whatever flavor you like)
2 teaspoons Everything Bagel Seasoning
1/2 teaspoon smoked paprika
Optional: 1/4 teaspoon garlic powder, 1/4 teaspoon onion powder, and 1/4 teaspoon sea salt
Topping:
Note: you may substitute seasoned breadcrumbs, but this nut mixture is special.
1/3 cup broken or small nuts (regular or smoked almonds, pecans, pine nuts, pistachios, walnuts, or a combination)
1 tablespoon fresh minced chives, cilantro, or parsley
1 tablespoon Everything Bagel Seasoning
Preheat oven to 400 degrees. Line an 8-inch metal baking pan with parchment paper or spray with nonstick spray or vegetable oil. Whisk together all ingredients, except cauliflower and Topping, and rub and pat generously over entire surface of cauliflower, including the bottom. Place, stem down, in prepared pan and roast, covered with foil shiny side down, for 45 minutes. While cauliflower roasts, place topping ingredients in food processor and pulse a few times until nuts are finely chopped and ingredients are well combined. After 45 minutes, carefully remove foil—avoid escaping steam—spritz top lightly with oil, and roast, uncovered, for 10 minutes. Open oven door, slide rack out, sprinkle cauliflower with topping, and roast, uncovered, for 10 more minutes. Test for tenderness with a sharp knife at base and bake a couple more minutes if necessary. Serve on a platter of mixed greens and pass a bowl of Better Than Sour Cream Sauce (recipe follows).
Better Than Sour Cream Sauce:
1/2 cup Tofutti (www.Tofutti.com) Better Than Sour Cream
2 tablespoons garlic hummus (or same flavor used for cauliflower rub)
Optional: pinch sea salt
Zest of 1/2 medium lemon
In small bowl, whisk together Better Than Sour Cream, hummus, and optional sea salt.  Whisk in half the zest and use the remainder as a garnish on top.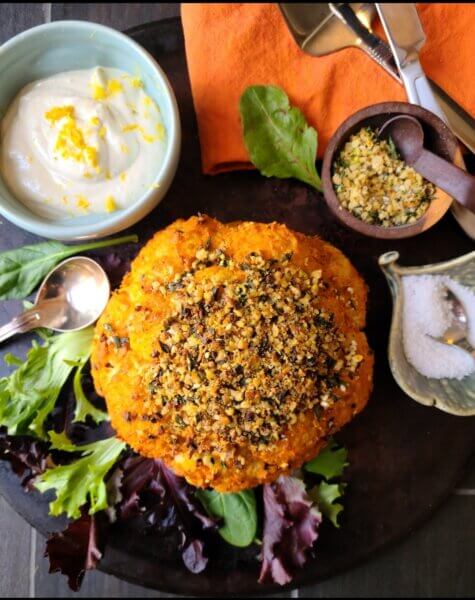 #vegan #veganrecipes #veganfoodshare #veganfoodporn #plantbased #plantbasedrecipes #plantbasedfoodshare #plantbasedfoodporn #vegansofinstagram #vegansoffacebook #vegansofvirginia #thebloomingplatter #plantbasedbuffaloholiday #veganholiday #plantbasedcauliflower #vegancauliflower