Yield: four-4 inch main dish tarts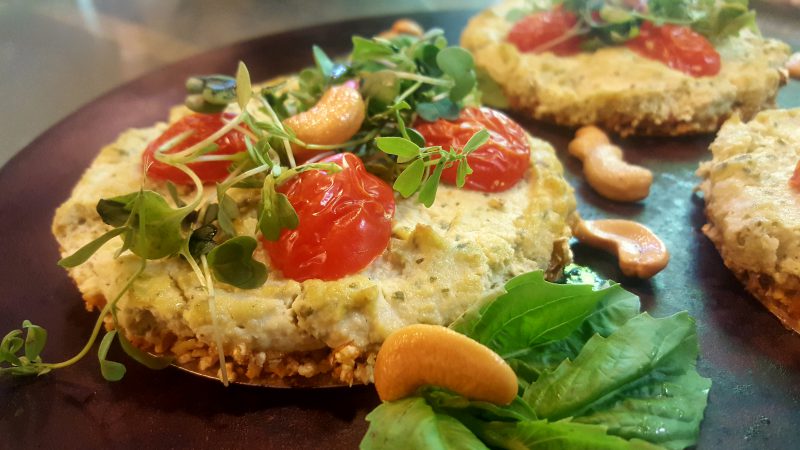 Popcorn: it's not just for movies anymore!
This delicious crispy crust was inspired by one of my favorite indulgences at the Naro theatre in Norfolk, VA: popcorn with nutritional yeast. The only problem is that I can't put it on my debit card because it doesn't meet the minimum charge amount. So, what's a girl to do, but buy some warm cashews and sprinkle them over the top.  Hence, my crust capitalizes on all of those ingredients…except the debit card.
The filling is a simple tofu, scallion, and fresh basil mixture seasoned with garlic, Liquid Aminos, and just the right amount of lemon juice and zest for a zippy and creamy contrast to the crust.  Halved cherry tomatoes and garnishes of microgreens and a few cashew halves deliver big flavor and texture and an Instagram-worthy photo finish.
Scallion-Basil-Tomato Tarts with Popcorn-Cashew Crust
Popcorn-Cashew Crust (recipe follows)
1 bunch scallions with all but about 2 inches of green removed (approximately 6 scallions), cut into 2-inch pieces
1/2 cup semi-firmly compacted fresh basil leaves
14 ounces extra firm tofu, pressed with paper towels and cut into hunks
1/2 teaspoon garlic powder
1 tablespoon Liquid Aminos
Zest and juice of 1 large lemon
6 cherry tomatoes, halved lengthwise
Garnishes: microgreens and roasted, lightly salted cashew halves, and an optional drizzle of maple syrup
Prepare crust.  Then, in the bowl of a food processor, process scallions and basil until coarsely chopped.  Add tofu, garlic powder, Liquid Aminos, and lemon zest and juice.  Process until smooth with small green flecks.  Divide mixture evenly among baked shells and gently spread to edges.  Top with 4 cherry tomato halves and bake, uncovered, for 20 minutes.  Let sit until cool enough to handle and then remove tarts from tart pans (bottoms of pans will still be attached.)  Serve garnished with microgreens and roasted and lightly salted cashew halves.  Though this may sound odd, a scant drizzle of maple syrup over the top is a delectable contrast.
Popcorn-Cashew Crust: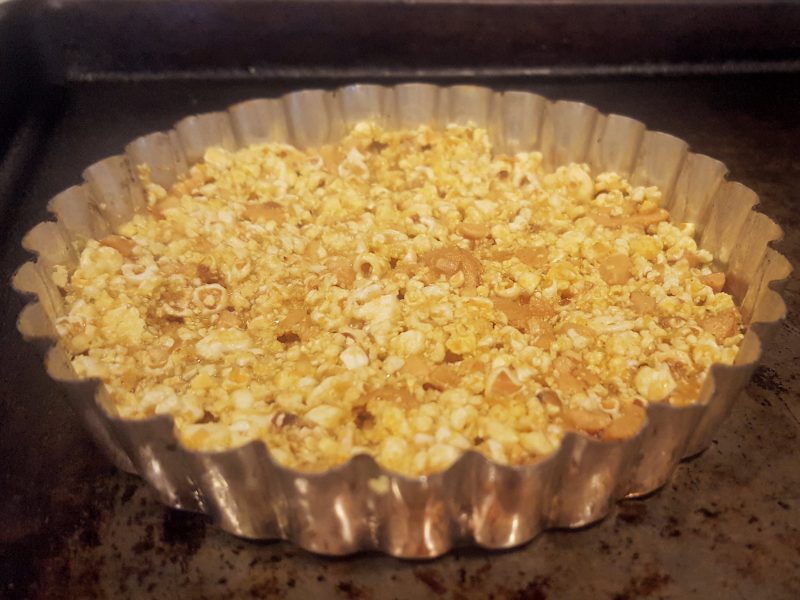 4 cups popcorn (I use Skinny Pop, but any vegan brand will do nicely)
1/4 cup roasted and lightly salted cashew halves and pieces
4  tablespoons coconut oil, vegan butter or, my preference, a combination, melted
2 tablespoons nutritional yeast
Pinch sea salt
Preheat oven to 350 degrees.  Place four 4-inch tart pans with removable bottoms on a rimmed baking sheet, and set aside.  Process popcorn and cashews in food processor until very fine.  Pour in butter and/or oil, nutritional yeast, and salt, and process until mixture comes together.  Divide evenly among the tart pans and press evenly only onto the bottom.  I use a piece of plastic wrap over the surface and press with the bottom of a glass to compact the mixture.   Bake for 10 minutes.  Remove from oven and allow to cool while you make the filling.