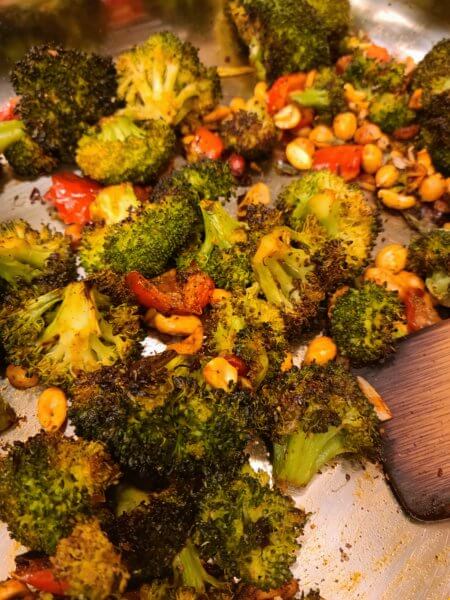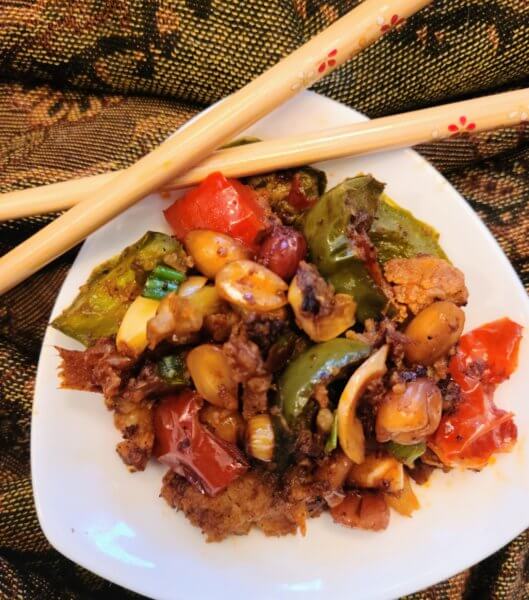 Yield: 6 to 8 servings
I am obsessed with the flavors of a dish called Tofu Braised in Hot Chili Oil at a local restaurant called Judy's Sichuan. But, I could do without the deep frying of the tofu and the additional oil, as mesmerizing as it is. I have attempted a stir-fried veggie version or two in the past that were unspectacular fails.
But, recently, fellow foodie and friend, Juan Gelpi, introduced me to Sichuan peppercorns. Eureka! The missing flavor. So I started brainstorming and alighted on a non-traditional roasted prep which I love because it is hands-free cleaner, and neater.
I hope you love my tofu-less and non-braised version of Tofu Braised in Hot Chili Oil.
Sichuan Vegetables in Hot Chili Oil with Garlic, Ginger, Scallions, & Peanuts (vegan & plant-based )
Yield: 6 to 8
2 tablespoons vegetable or peanut oil
2 teaspoons sesame oil
6 to 8 cups cauliflower, broccoli, or a combination of florets
1 red bell pepper or 1/2 red and 1/2 green bell pepper, cut into 1-inch chunks
1 teaspoon sea salt
2 teaspoons ground Sichuan peppercorns (I purchase at Asian grocery)
2 tablespoons Chinese hot chili oil or fried chili crisp (I purchase at Kroger on International aisle)
2 to 3 inches fresh garlic, peeled and thinly sliced on diagonal
4 large cloves garlic, thinly sliced on diagonal
2 scallions, thinly sliced on diagonal
1/2 cup lightly roasted and salted peanuts
Preheat oven to 425 degrees. Pour oils into large roasting pan. Add vegetables, toss in oil, sprinkle with salt and Sichuan peppercorns. Roast for 20 minutes, stirring after 10. Remove pan from oven. Increase heat to 450 degrees. Stir remaining ingredients into vegetables, scraping up caramelized bits. Return to oven for 10 minutes, stirring after 5. Crack oven door, turn off heat, and allow to cool to warm. Serve immediately.
#vegan #veganrecipes #veganfoodshare #veganfoodporn #plantbased #plantbasedrecipes #plantbasedfoodshare #plantbasedfoodporn #plantbasedSichuan #veganSichuan