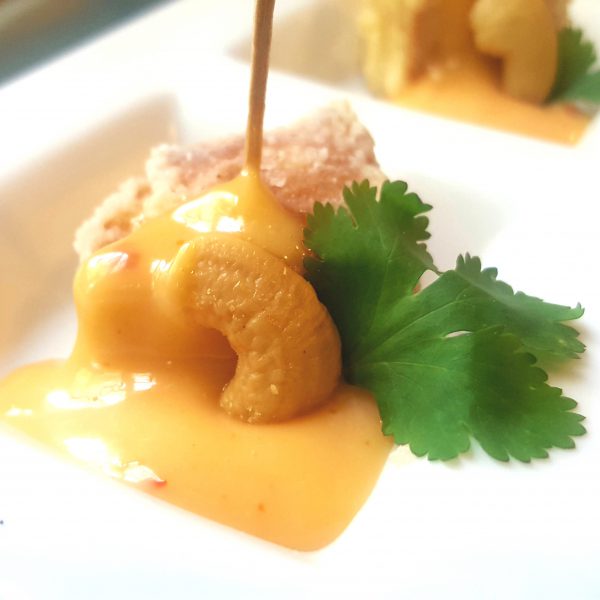 It doesn't matter how you serve this dish–taco, appetizer, etc.–you will love it. In fact, you might want to just eat spoonfuls of the delectable sauce by itself.
Note:  We own a Waring Pro fryer, which is surprisingly affordable (cheap!), and I highly recommend.  
Bang-Bang Tofu
Bang-Bang Sauce (recipe follows)
Crispy Fried Tofu (recipe follows)
Optional garnishes: cilantro sprigs, lightly salted cashew halves, snipped chives or green onions; or small flour or corn tortillad and shredded cabbage if serving as tacos
To serve, either toss the cubes of fried tofu with some of the sauce and sprinkle with the garnishes of your choice; do the same, but serve in a soft taco shell with some shredded cabbage; or serve as an appetizer with a toothpick in each tofu square,  a little sauce on the side,  and the garnishes of your choice.  Be sure to prepare just before serving so that the sauce does not make the crispy tofu soggy.
Bang-Bang Sauce
2 cups vegan mayonnaise
1 cup Asian sweet chili sauce
1 tablespoon demerrera sugar
1/4 teaspoon garlic powder
1/4 teaspoon onion garlic powder
1 teaspoon sriracha sauce or to taste
In a medium bowl, whisk together all ingredients.  Cover and refrigerate.
Crispy Tofu
1 pound extra firm tofu, cut into 1-inch cubes
1 cup unsweetened soymilk curdled with 2 teaspoons rice vinegar + 1/4 teaspoon salt
3/4 cup cornstarch
Heat 2 to 3 inches vegetable oil to 375 degrees in deep heavy-bottomed pot.  Place both the curdled soymilk and the cornstarch in separate shallow bowls. Working with 1/4 of the tofu at a time, dip the pieces first in the curdled soymilk and then coat with the cornstarch. Fry for 3 minutes or until golden brown. Drain on oaper towels.  Keep warm in a preheated 170 degree oven (or lowest temperature).