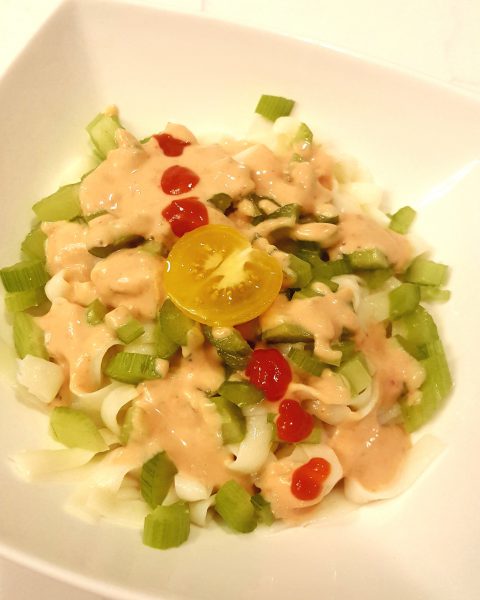 BUFFALO PASTA–only 50 calories for an 8+ oz. serving!
Would you believe me if I told you that this 8+ ounce boel of delicioys Buffalo Pasta contains a total of 50 calories, including the pasta, the sauce, and the celery?!  And it is so filling that I couldn't even eat it all.
The secret is in the Shirataki pasta, which is only 20 calories for 8 oz, and the delicious Buffalo Sauce made from my low calorie Blooming Platter Mayo at only 8 calories per tablespoon.
Note: while the Liquid Smoke and molasses might seem like odd ingredients, the Buffalo soy nuggets we all love from Whole Foods contains smoke flavoring and molasses powder. Even though traditional buffalo sauce contains neither, they are delicious additions.
BLOOMING BUFFALO PASTA
Yield: 1 large serving (or 2 entrees with a side salad); easily multiplies
8 oz Shirataki pasta, drained, rinsed, and heated for 1 minute in the microwave for a cold pasta dish or two minutes for a warm pasta dish
1/2 cup finally chopped celery
2 tablespoons Best Blooming Platter Lo-Cal Mayo
1/2 teaspoon sriracha sauce
1/2 teaspoon white vinegar
1/8 teaspoon Liquid Smoke
1/8 teaspoon molasses
Sea salt to taste
Whisk together the Blooming Platter Mayo, sriracha sauce, vinegar, Liquid Smoke, molasses and sea salt.   Place pasta in a bowl, sprinkle with celery, drizzle with sauce, and garnish as desired.