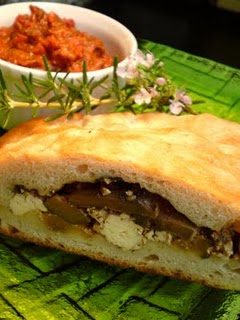 Yield: 4 servings
Get in the "zone"…the "calzone"! Until recently, I had never made calzones, and any one I had ever ordered in a restaurant was doughy and heavy. However, I recently had a fresh veggie calzone at zPizza. The veggies were perfectly al dente, the vegan mozzarella quite good, and the crust surprisingly thin, light and crisp-tender. Knowing it could be done, I decided to try making one using my trusty pizza dough recipe reputed to be California Pizza Kitchen's. I loved the results and think you will too.
Pizza dough is so ridiculously easy and quick to make (most of the time is hands free rising time) that I can think of few reasons to purchase it. I spent years intimidated by the prospect of "killing" the yeast with water that was too warm or not activating it with water that was too cool. "Quick Rise" or "Rapid Rise" yeast removes that concern.
Note that, while I use fresh herbs in most recipes, I used dried in this case because of the high cooking temperature. If you like a gooey filling, feel free to substitute shredded vegan mozzarella for my "cheeze". For caloric and economic reasons, I like to make my own which, granted, would not fool anyone into thinking it is mozzarella, but I still like it very much.
Though it as delicious as is, you should consider this recipe also as a springboard to your own tasty creations by mixing and matching ingredients of your choice such as artichokes, olives and even vegan sausage, or some less traditional choices. Get creative and please share your winning combinations!
For this recipe and some 170+ more,
I invite you to purchase my first cookbook:
The Blooming Platter:
A Harvest of Seasonal Vegan Recipes
Vegan Heritage Press
Spring 2011