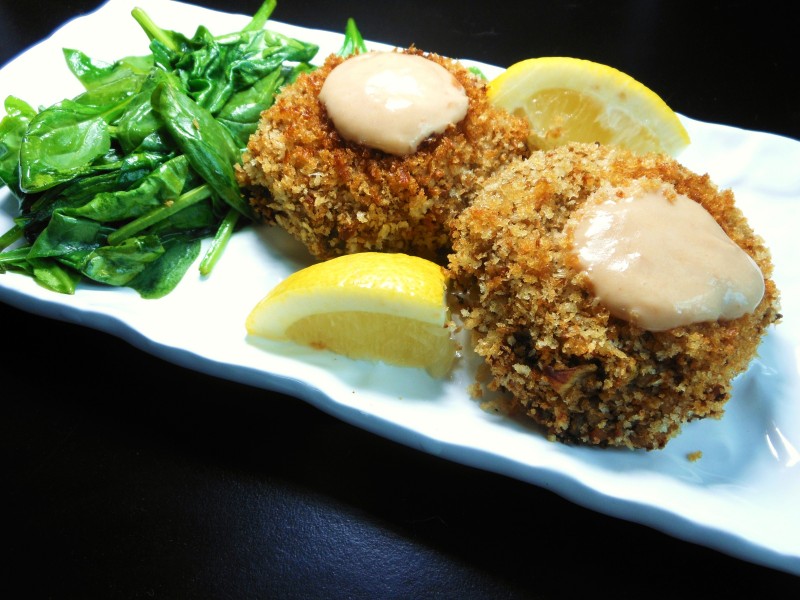 Note: Navitas Naturals no longer has this recipe available on their website and I contacted them to see if they had it in an archive, but they do not. My sincere apologies. I hope to recreate it but I neglected to keep a copy myself. Live and learn.
If you crave crabcakes but not the crab, and if, like me, you haven't been able to enjoy that particular blend of deep sea flavor, creamy interior, and crispy exterior in far too long, then you have come to the right place!
Navitas Naturals Nori Powder and Textured Vegetable Protein (TVP) are my no-longer-secret ingredients for this new recipe for Vegan Crabcakes!  (Just click on the orange link to go directly to the Navitas Naturals website for the delicious recipe.)
So many of my recipes do not try to be anything they are not.  In other words, I was never such a meat/chicken/seafood devotee that, now, as a vegan, I seek to imitate those flavors on a regular basis.  BUT, there are some dishes that I like the notion of–most often because of the texture, a spice blend, or maybe a sauce–but like MUCH better veganized; think buffalo wings, seafood gumbo, chicken salad, egg salad, etc.  Crabcakes fall squarely–or roundly, as it were–into that category.
These crabcakes are held together by a faux mousseline.  Mousseline is a sauce traditionally made with whipped cream.  I snagged this tip from America's Test Kitchen who recommends making a shrimp and cream mousseline to hold crabmeat together in a cake in order not to "deaden" the flavor through the use of mayonnaise or egg.  I make my mousseline out of TVP and soymilk (but feel free to use your favorite unsweetened non-dairy milk.
The mixture bound together nicely, but was difficult to flip in a skillet, and required way too much oil, mess and calories.  So, I baked my second batch and found them perfect.  No flipping is involved, and they hold together beautifully when moved by spatula from pan to plate.  They also have a very appealing mouth-feel that is not unappetizing due to a texture that is too soft.
I hope you find my Vegan Crabcakes to be deeply satisfying in every way!
Many thanks to Navitas Naturals for publishing this recipe on their website…and for offering such a spectacular product!!
Note: you may substitute 2 Nori sheets for the 2 teaspoons Nori Powder in the stock if the powder is difficult for you to access, though it is sold online.  If using Nori sheets, let them steep for about an hour in the hot stock before straining out, returning the stock to a simmer, and proceeding with recipe.)