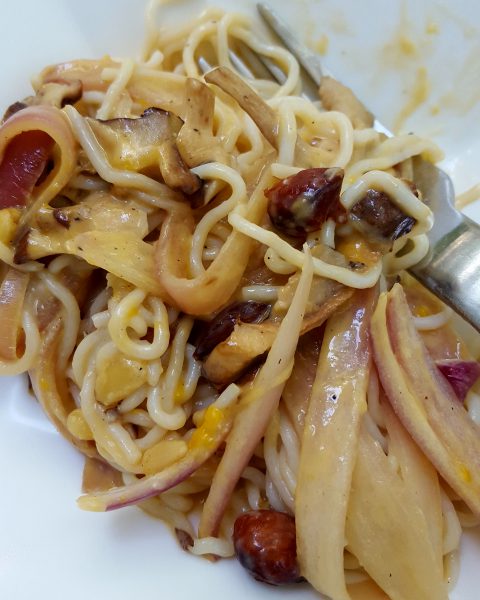 Vegan Creamy-Cheesy Pasta with Sauteed Mushrooms and Onions
Yield: 1 serving (2 with a side salad)
App. 350 calories for entire recipe!
Decadent, delicious, low-fat and low-cal, this quick recipe is unbelievably tasty and satisfying.
By now, most of you know that my main calorie-saving secret for pasta is Shirataki (20 calories for 8 cooked ounces). Find it in a pasta-in-liquid filled pouch in the cold section of some grocery stores, including Whole Foods.
For this recipe, the other key low-cal ingredient is my Blooming Platter Mayo found on my website of the same name (and below).
Mayo in a pasta dish that isn't a salad? Odd-sounding I know. But my mayo is silken tofu-based so it can be used whenever a savory creamy binder is needed, e.g. in place of cream, sour cream, or condensed soups in recipes. And it is, of course, the perfect tasty, thick, and creamy mayonnaise substitute at 10, rather than 100, calories per tablespoon.
Nonstick spray
1/2 red onion, slivered
1 cup sliced raw mushroooms
2 to 4 tablespoons white wine or water
8 ounces Shirataki pasta, rinsed and drained
2 to 3 tablespoons Blooming Platter Mayo (only 10 calories per tablespoon!)
2 tablespoons shredded vegan cheddar
2 tablespoons shredded vegan parmesan
1/4 teaspoon garlic powder
Sea salt and freshly ground black pepper to taste
2 tablespoons pine nuts, smoked almonds, or a combination ( I like the combo)
Spray a large skillet with a couple of squirts of nonstick spray and heat over medium or medium high heat. Add onion and mushrooms and saute for about 1 minute, stirring continually. Add white wine or water and continue sauteing just until vegetables are barely soft. Stir in remaining ingredients, except nuts, and heat through, stirring, until cheese is melted. Stir in nuts and serve immediately.
Blooming Platter Low Calorie 4-Ingredient Mayo
Yield: 2 cups (only 10 tasty calories per tablespoon)
16 ounces (1 pound) silken tofu
Juice of 1/2 medium lemon
1/4 teaspoon garlic powder
Black salt to taste (sea salt may be substituted but Indian black salt–at Indian markets and online–lends a sulphury, eggy quality that is perfection)
Blend together in a food processor or blender for 3 or so minutes until completely combined, thick, and creamy. Store in an airtight container in refrigerator.
#vegan #veganrecipes #veganfood #veganfoodshare #veganfoodporn #plantbased #plantbasedrecipes #plantbasedfood #plantbasedfoodshare #plantbasedfoodporn