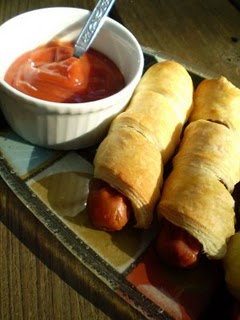 Yield: 8 hot dogs
You'll love my "twist" on the traditional hot dog just in time for Independence Day in the U.S. Think "Pigs in a Blanket" kicked up a notch with the help of puff pastry dough. Once baked, they look really cute served upright in a wine glass, but they didn't photograph too well like that. Regardless of how you serve them, guests of all ages will salute you. For adults only, I recommend accompanying them with Margarita Mayo and Pina Colada Catsup. It's true that mayonnaise isn't a traditional condiment for dogz, but something about the buttery "bun" contrasting with the tart lime makes for a delicious combination in this case. I also tried a Mojito Mustard, but lime, never mind mint, isn't too tasty with mustard. A Mango Mustard, however, sounds marvelous. If you experiment with sauces, please share your results. Happy Fourth of July!
8 vegan hot dogs
1 sheet Pepperidge Farm puff pastry, thawed according to package directions
Preheat oven to 400 degrees. Line a baking sheet with a Silpat sheet or apply nonstick spray sparingly. Slice puff pastry into 8 equal strips. Working with one dog at a time, wind and spiral the dough down the length of the frank making sure to gently press the ends of the strip of dough against the underside of the dog at both ends. You may need to slice about an inch off of each piece of dough, depending on the size of your hot dogs. Place the dog on the baking sheet and repeat with remaining franks and dough, leaving a couple of inches between each one. Bake for approximately 22 minutes or until golden, but start checking after about 15. Serve warm or at room temperature with the condiments of your choice. I particularly like the following:
Pina Colada Catsup
1/4 cup catsup
2 teaspoons Cream of Coconut
2 teaspoons pineapple juice
2 teaspoons rum (I used a golden variety)
Whisk all ingredients together and serve or store in an airtight container in the refrigerator.
Margarita Mayo
1/4 cup vegan mayonnaise
2 teaspoon fresh lime juice
2 teaspoons tequila
2 teaspoons VERY loosely packed lime zest (approximately the zest of one small lime)
pinch salt
Whisk all ingredients together and serve or store in an airtight container in the refrigerator.
Note: for a pretty and authentic Margarita presentation, you can dip the rim of a small glass or glass bowl in fresh lime juice and then in salt before filling with the mayo.