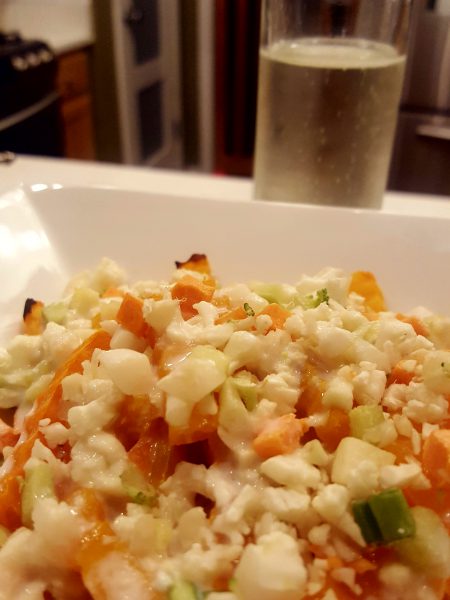 Who is all-in for a 250 calorie dinner that is decadent, delicious, and nutritious?  Of course you are!
Yield: 1 ginormous 250 calorie calorie serving
20 ounce crinkle cut butternut squash fries, sprinkled with sea salt, and roasted at 450 degrees for about 20 to 25 minutes (They won't be crispy, but they will be firm and delicious; roast longer if you can wait!)
3/4 cup raw confetti riced vegetables, e.g. broccoli, carrot, and cauliflower.
1 tablespoon Blooming Platter Mayo (10 calories)
Sea salt to taste
Place roasted fries in a shallow bowl or on a plate, top with confetti vegetables, drizzle with Mayo, and sprinkle with sea salt to taste. Dig in. What satisfying textures! I love to eat them with chopsticks even though there's nothing Asian about them. It's just more fun.
#vegan #veganrecipes #veganfood #veganfoodshare #veganfoodporn #plantbased #plantbasedrecipes #plantbasedfood #plantbasedfoodshare #plantbasedfoodporn