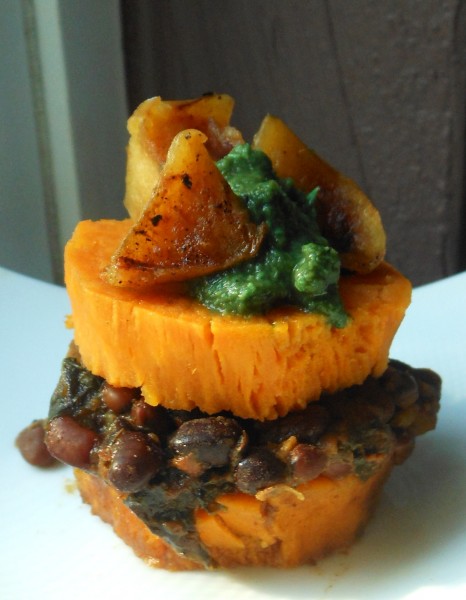 Yield: 6 servings
This Indian stew-like melange is so flavorful and satisfying that it is absolutely divine on its own, perhaps served with basmati rice, some cashews and maybe a little fresh cilantro.  However, I can attest to it being luscious eaten cold right out of a carton!
For an exquisite–but super-easy presentation–use it as the filling in my Sweet Potato Stack.  Though drizzling an Indian dish with maple syrup may seem out of character, there is something about the hint of maple combined with the other ingredients that is absolute autumnal perfection!
Maharaja Mung Beans and Kale :
6 cups water
Sea salt
2 cups mung beans (rinse, pick over, bring to a boil, let sit for 30 minutes and then simmer 45 minutes more)
1 tablespoon olive oil
1 small onion, diced
1 bunch kale, thick stems removed, and leaves torn into bite size pieces
2 cloves garlic, minced
1 teaspoon ground cumin
1 teaspoon cumin seeds
1 teaspoon turmeric
1/2 teaspoon ground cardamom
1/2 teaspoon curry powder
1/2 teaspoon Amchur (dried mango) powder (optional; you may substitute lemon zest, but it's not quite the same)
1/4 teaspoon ground cloves (or mace)
1 tablespoon coriander seeds
1 teaspoon mustard seeds
2 large Roma tomatoes, diced
1/4 cup thick coconut milk
In a covered 4-quart saucepan, bring water and salt to simmering over medium-high heat.  Add mung beans, turn off heat, let sit for 30 minutes, and then return heat to medium-high, place lid ajar, and simmer beans for about 45 minutes or until almost all of liquid is evaporated, but beans are still very moist.
Meanwhile, heat olive oil in large cast iron skillet over medium-high.  Add onion and a pinch of salt and saute, stirring frequently, for about 2 minutes.  Add kale by handfuls, stirring and sauteeing until slightly wilted before adding the next handful.  Stir in garlic and all remaining ingredients except tomatoes and coconut milk and saute, stirring, until heated through.  Stir this mixture thoroughly into the mung beans followed by tomatoes and coconut milk.  Heat through, stirring often, and serve immediately as is or in the Sweet Potato Stack.
Sweet Potato Stack:
Yield: 4 appetizer servings of 2 stack per person
2 slender sweet potatoes, baked (in a conventional oven or microwaved), cooled enough to handle, skin removed, and each sliced into about 8 1/2-inch slices
Generous 1/2 cup Maharaja Mung Beans and Kale, heated
4 teaspoons maple syrup
Garnish: 4 tablespoons chutney or the topping of your choice (I used 4 teaspoons prepared mint chutney plus 8 teaspoons chopped grilled apples because I had both on hand)
Optional: tiny pinches of sea salt as a "finishing salt"
Place 2 sweet potato slices on each plate.  Top with rounded tablespoons of mung bean mixture and remaining 8 sweet potato slices.  Drizzle each stack with about 1/2 teaspoon of maple syrup and then top with about 1 1/2 teaspoons of chutney or 1/2 teaspoon of prepared mint chutney and a teaspoon of chopped grilled apples as in the photograph.