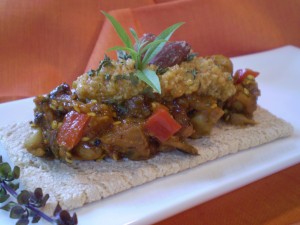 An unforgettable dipping sauce for the warm homemade bread at Marrakesh Palace in D.C. inspired this olive pesto, and the pesto inspired the rest of the dish.
I was introduced to the pesto, which has no name that I know of, with my wonderful friend Allison when we visited D.C. in August.  We stayed at the Hotel Palomar in Dupont Circle which happened to be just two doors down from Marrakesh.  On my evening walk, it caught my eye and the posted menu was seductive, so we strolled down for a late dinner at around 9.  (How very cosmopolitan of us.)
We sat on the tiny patio on a perfect night eating when we weren't talking and talking when we weren't eating (waking up hoarse the next morning!).  Our lovely meal consisted of the bread and pesto dipping sauce, a flavorful Moroccan/Lebanese white bean dish called Loubia, and vegetable soup with glasses of Ksara.
Though I don't claim that any part of my dish is authentic, it is delicious.  As far as the pesto, our server told us what was in it, and I made up the proportions.  I can't remember, though, if onion was one of the ingredients, but fearing raw onion might overwhelm the other flavors, I didn't include it.
While I could eat my weight of bread dunked in the pesto–and I think I did–tonight for dinner, I wanted something more nutritionally balanced that I could call a meal.  Chickpeas sounded perfect, so I scooped up a can at the grocery store on my way home from school.  I knew that I had an onion, garlic, and a red bell pepper that would be pretty and delicious with the them.  But, much to my delight, I also had an eggplant that I had bought at a farm market during this last gasp of summer.  (Note that, for some reason, I've become averse to eggplant skin, as I've found it unappetizing in a couple of dishes recently.  So, for this dish, I removed the skin; but if you like it, leave it on.)
One of the most appealing aspects of this dish, both the chickpeas and the pesto–besides the flavor–is all of the fun ways it can be served: as a crostini toppings, as a pita bread or other pizza topping, as a pita sandwich filling, or over a bed of sauteed greens or couscous.  And that's just for starters.  But the filling and pesto also pairs beautifully in my Taco Morocco!  I'd love to know how you serve it.
Marrakesh Olive Pesto
2 cups pitted green olives
1/2 of a medium tomato, cut into chunks
1 stalk celery, cut into chunks
1 small carrot, peeled and cut into chunks
2 large cloves of garlic
1/4 cup flavorful extra virgin olive oil
sea salt and freshly ground black pepper to taste
Place all ingredients except olive oil and salt and pepper in the bowl of a food processor and pulse until very finely chopped and pulpy, scraping down the sides of the bowl as necessary.  Add the olive oil, salt and pepper and pulse a few more times until well combine and a bit smoother.  Adjust seasoning if necessary.  Transfer to a serving bowl or airtight storage container.  If not using immediately, store, covered, in the refrigerator.
Moroccan Chickpeas and Eggplant
2 tablespoons olive oil, divided
1/2 of a medium yellow onion, cut into 1/4-inch dice
sea salt
2 cups 1/2-inch eggplant cubes (I peel the eggplant first)
1/2 cup fresh tomato puree
1 large clove garlic, minced
1 medium red bell pepper, cut into 1/4-inch dice
1/4 cup water or dry red or white wine (the flavor will be different, but still delicious)
1-15.5 ounce can chickpeas, rinsed and drained
1/4 teaspoon turmeric
1/2 teaspoon ground cumin
1/2 teaspoon smoked paprika
1 teaspoon pomegranate molasses (available at Middle Eastern or Mediterranean markets)
1 tablespoon agave nectar
Freshly ground black pepper to taste
Pinch of red pepper flakes or to taste
Zest of 1/2 of a small lemon (about 1 teaspoon)
1 tablespoon minced fresh parsley (or 1 teaspoon dried)
Heat 1 tablespoon of olive oil to shimmering in a large cast iron skillet over medium-high heat.  Add onion and a pinch of salt and saute, stirring frequently, for 3 to 5 minutes or until softened and some golden color starts to develop.  Add the eggplant and remaining tablespoon of oil an saute, stirring frequently, for about 5 minutes or until the eggplant is softened and taking on some color.  Add the tomato puree, garlic and bell pepper and cook another5 minutes.  Add water or wine and remaining ingredients, except lemon zest and parsley, and heat through, stirring continually, until the water cooks down and the mixture becomes very thick, which happens quite quickly.  Taste and adjust seasoning if necessary.  Stir in the lemon zest and parsley and remove from the heat.  Serve warm topped with Marrakesh Olive Pesto as is or on grilled bread as a crostini, as a pizza topping or pita sandwich filling, or over a bed of sauteed greens or fluffy couscous.