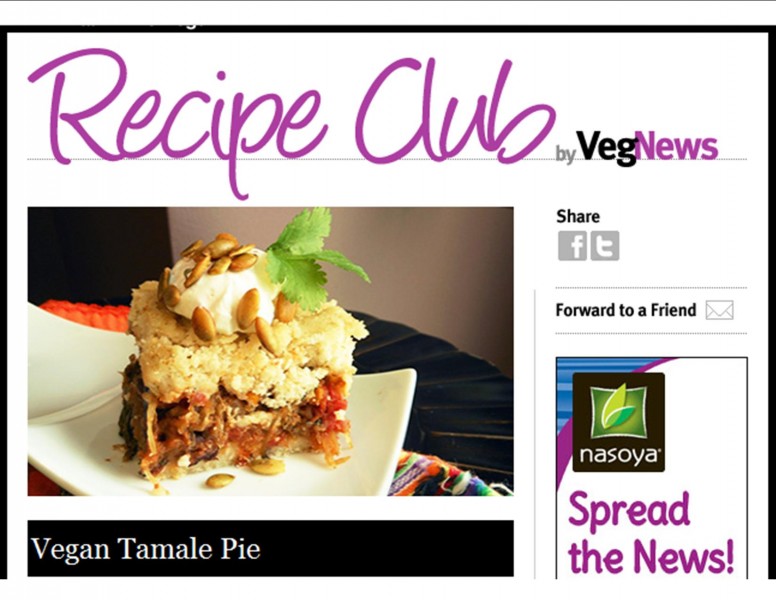 Yield: 8 servings
This month, the award-winning VegNews magazine published my Vegan Steamed Tamale Pie in their online "Recipe Club" e-newsletter.  (To receive your own issue, just go to the VegNews home page to sign-up for this free e-publication so you don't miss anything!)
[Note: Skip to the bottom of this post for my recipe if you aren't interested in the back story!]
I adore vegan tamales, but they are a bit time-consuming, so I remembered that I had heard of "tamale pie."  However, all of the recipes I found  online consisted of a filling topped with what amounts to a layer of baked cornbread. That sounded fine, but not what I was after.
Wanting a consistency more like true steamed tamales, I wondered if the "pie" couldn't be baked in a bain marie (water bath), tightly covered with foil so that it would steam.  I did a little more research and found a non-vegan (pork) recipe made in this way.
My filling went together in a snap as I ad-libbed with onions, bell peppers, garlic, spices, black beans, fire-roasted tomatoes, diced green chilies, fresh spinach, faux "chicken" (the first time) and spaghetti squash (the second time), cilantro, and lime zest.
However, it took me three tries to get the masa dough the correct consistency.  The first two times, I tried it with cornmeal and ended up with 1) a-way-too-sturdy-and-dense top layer, and 2) something that had the unappealing texture of wet sand.  For the third, final, and successful attempt, I stopped by a local tienda and purchased masa harina for tamales.  The flavor, not to mention the texture, was VASTLY superior.  Delicious and quite revolutionary in the tamale pie world!
I think the finished dish was well worth the effort of experimentation and trust you will agree!
But first: No sooner had the recipe been published in "Recipe Club," than Brandy, one of the readers, made it and posted a photo of it here on the VegNews Facebook page.  What a lovely job she did!
Vegan Steamed Tamale Pie
For the masa layer:
2 cups masa harina (Do NOT substitute cornmeal!  Masa harina is widely available at Latin markets or tiendas and some grocery stores.)
1 teaspoon baking powder
1/4 teaspoon salt
1/2 cup canola oil
2 cups warm "no-chicken" or "veggie" broth
In a medium bowl, whisk together all ingredients until well-combined.  The mixture should be the consistency of a soft cookie dough.  Cover, and set the masa aside while you prepare the filling.  Whisk the masa well just before using if necessary.
For the filling: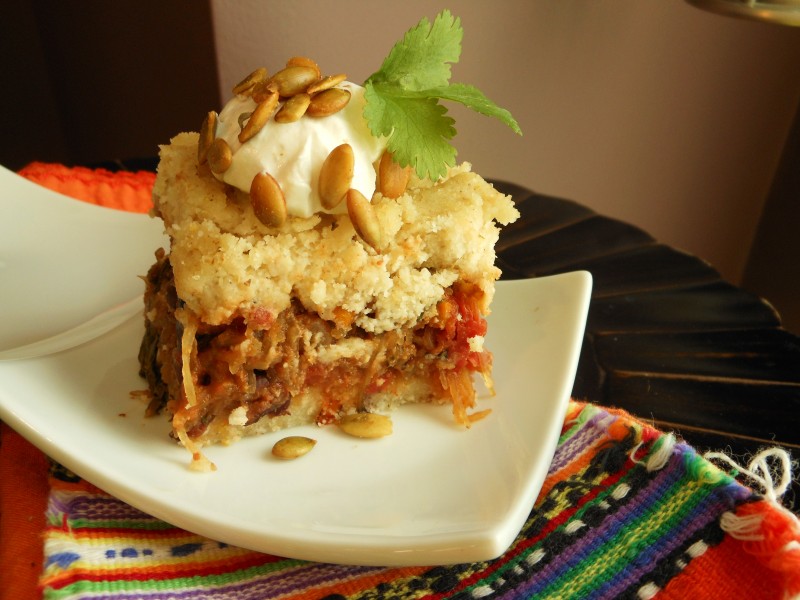 1 tablespoon olive oil
1 small onion, diced
Pinch sea salt
1/2 large orange bell pepper, stemmed, seeded and diced (red or yellow bell pepper would be nice too)
2 large cloves garlic, minced
2 teaspoons ground cumin
1 teaspoon Ancho chili powder (substitute chipotle if you prefer some heat)
1 teaspoon dried oregano (Mexican, if available)
1/2 teaspoon smoked paprika
1-15.5 ounce can black beans, rinsed and drained
1-14.5 ounce can diced fire-roasted tomatoes, including juice
1-4 ounce can diced green chilies, including juice
1/2 pound "chicken"-flavored seitan (I used an 8 ounce package Morning Star Farms Meal Starters Chick-n Strips, cut into bite-size pieces) OR 2 cups cooked spaghetti squash (halve lengthwise, scrape out seeds and pulp, microwave for 8 minutes, flesh side down, and scrape out spaghetti-like "threads" with a fork)
4 cups lightly packed fresh raw baby spinach
1/2 cup finely chopped fresh cilantro
Zest of one-half of a medium lime
For the Garnish: vegan sour cream and fresh cilantro sprigs, toasted pumpkin seeds, and/or a lime wedge.
Place a large pan like a turkey roaster or baking dish larger than 9 x 13″ on the middle rack of oven.  Fill with two inches of water and preheat oven to 350 degrees.  Grease an 8- or 9-inch square baking dish (or two 5 x 8″ loaf pans) and set aside.  Meanwhile make filling.
In a large cast iron skillet or Dutch oven, heat the tablespoon of olive oil over medium-high.  Add the onion, bell pepper, and a pinch of salt, and saute about 3 minutes, stirring frequently, or until vegetables are softened and beginning to develop some color.  Add the garlic and saute about 30 seconds to one minute.  Add all of the spices and stir well to incorporate, lowering the heat if necessary.  Then add the beans, tomatoes, green chilies, and seitan or spaghetti squash, stirring to incorporate.   Add the spinach in two parts, allowing each to wilt slightly before continuing.  Then stir in the cilantro and lime zest, and remove from heat.
Softly crumble half of the masa into the bottom of the prepared baking dish, gently pressing with your fingers to cover.  Spoon the filling evenly over the masa and then softly crumble the remaining masa over the top, again gently pressing to cover the filling and seal to the edges.  Cover tightly with foil.  Slide oven rack out, place covered baking dish into the water bath, and then cover the water bath with more foil, sealing tightly, but being careful not to burn yourself.  Slide the rack back in and bake/steam for 45 minutes.  (Note: if using loaf pans, follow these instructions, but use one-fourth of the masa mixture for the tops and bottoms of each pan.)
Slide the rack back out, uncover the water bath and carefully remove the tamale pie.  Uncover the pie and allow it to cool for 10 to 15 minutes so that it is easy to cut into squares.  Be sure to do this immediately upon removing the pies from the oven or they will continue to cook.
Serve dolloped with vegan sour cream and the garnish(es) of  your choice.