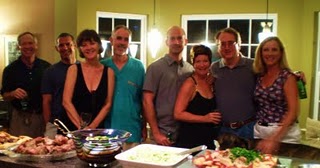 When I realized that Julia Child's August 15th birthday (it would have been her 97th!) was going to fall on a weekend when my beloved cousin Earl Weed from Houston was visiting, there was only one thing to do: throw a party! Since I knew that he and I would be out hiking and such during the day–and since our friends are gifted cooks–I decided to make it a quasi-French potluck. And I'm so glad I did.
Everyone's contributions were just perfect: mouth-wateringly gorgeous, nutritious, plentiful, and lovingly prepared. Obvious care and attention was lavished on every detail, including the beautiful serving pieces and presentations right down to the totes and trays used to carry the dishes into the house. (Though my husband's contribution doesn't fit that description, his willingness to vacuum floors and rugs–after his afternoon cigar on the deck but before guests arrived–was appreciated just as much.)

I was the only vegan in the crowd, but everyone brought vegan food except Scott who, thankfully and generously, kept the meat-eaters well satisfied. Served buffet style (to keep the food mostly out of reach of our dogs!), the menu consisted of:
A mound of Black Olive

Tapenade

on ruby red slabs of fresh juicy tomatoes with slices of whole wheat baguette, warmed lightly in the oven (Sharon and Mike Tanner)
Vegan Chicken Liver Pate with Sauteed Red Pears served with bagel chips (me)
Julia's perfectly crisp and refreshing Chilled Cucumber Salad (Jonell

Walthall

)
Julia's lovely and savory Ratatouille (Becky Bump and Reese

Lusk

)
Julia's

Veganized

Pissaladiere

Nicoise

[caramelized onion and black olive tart–thank you, Earl, for pitting those olives] (me)
Julia's Roasted Jerk Pork En Brochette (Scott

Walthall

–he even roasted the herbs himself!)
Vegan Chocolate Mousse (me–even Julia wouldn't miss the heavy cream!)
Red and white French wines and good 'ole red, white and blue American stories and laughter
Until next year, thank you, Julia, for inspiring generations of cooks past, present and future. And thanks to you Joe, Earl, and our dear friends for continuing to inspire me at table and beyond.
Bon Appetite!
Pictured from left: Scott, my husband Joe, Sharon, Mike, Reese, Becky, Earl and Jonell. Not shown: three drooling dogs. (Light conditions were not optimal for photographing the food–plus everyone was too hungry to wait–but stay tuned for post-party recipes and photos.)