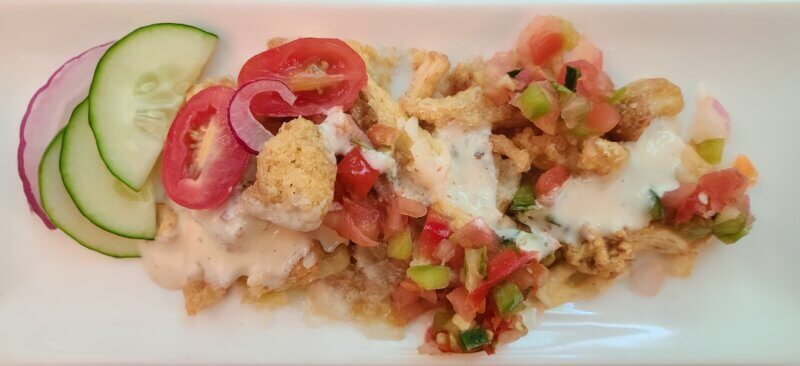 Yield: 1 serving (easily multiplies)
Every so often in a restaurant, I will gaze longingly at a big laden pile of nachos, but the truth is that, even when faced with a big platter of the vegan variety, I really don't want to eat all that business. So I devoted this pretty and healthful take. This quick version feels decadent and tastes delicious, but won't weigh you down.
1-1.5 ounce bag Rhythm brand Crisp Cauliflower Bites (I buy them at Kroger)
1/4 cup shredded vegan cheese (I like a mozz, but cheddar is great too)
2 tablespoons Pico de Gallo
2 tablespoons vegan sour cream or creamy dressing (I use Walton Farms Chipotle Ranch with 0 calories)
Garnish: fresh sliced cucumber, halved cherry tomatoes, and thinly sliced red onion (you could also add or sub sliced black olives and sliced green onion)
Pour crispy Cauliflower Bites onto plate, top with cheese, microwave 45 seconds–Bites will not become soggy or chewy–top with pico and sour cream or dressing, garnish as desired, and serve immediately.
#vegan #veganrecipes #veganfoodshare #veganfoodporn #plantbased #plantbasedrecipes #plantbasedfoodshare #plantbasedfoodporn #vegansofinstagram #vegansoffacebook #vegansofvirginia #plantbasednachos #vegannachos #plantbasedcauliflower #vegancauliflower #waltonfarms