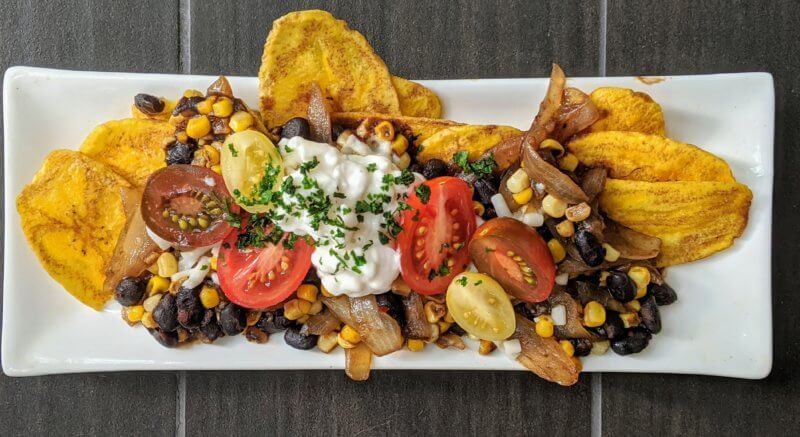 Yield: 2 servings
These deliciously different–but not bizarre–nachos substitute plantains for corn chips and infuse the tasty black bean topping with a hint of coconut milk, orange, and spice from my new obsession: Sizchuan Hot Chili Oil. No one will judge if you drizzle more of the addicting oil over the top.
1/2 large yellow onion, thinly sliced
1-15 ounce can seasoned vegan black beans, including juice
3 ears grilled corn, kernels cut from cob
1 cup lightly packed baby spinach or kale leaves
1/2 teaspoon ground cumin
1/2 teaspoon smoked paprika
1/4 teaspoon turmeric
Sea salt to taste
1/4 to 1/3 coconut milk (I use lite, but regular is more flavorful)
1 generous tablespoon Sizchuan Hot Chili Oil, made with blood orange-infused olive oil (see my hack below)
2 servings packaged plantain chips
Toppings: white vegan cheese like mozarella, halved tri-color cherry tomatoes, vegan sour cream, minced cilantro
In large skillet over medium heat, dry saute onion, stirring frequently, until starting to soften and color. Add all remaining ingredients, except chips and toppings, and cook, continuing to stir frequently, until onion is softened, greens are wilted, mixture is heated through, and flavors are married. Divide chips between 2 plates, spoon half of bean mixture over each, top as desired, and serve immediately.
Note: After topping with cheese, you can run nachos under broiler or pop into mic for 30 seconds before adding remaining toppings.
Hot Chili Oil Hack
1-8 ounce jar Lao Gan Ma: Spicy Chili Crisp (I purchase at Kroger or online)
4 to 5 cloves garlic, thinly sliced and softened by heating for 30 seconds in microwave
1/4 cup neutral vegetable oil
1/4 cup blood orange-infused olive oil (or another 1/4 cup oil + zest of 1/2 large orange
1/2 teaspoon sea salt or more to taste
Decant Spicy Chili Crisp into a larger jar, stir in remaining ingredients, cover, and chill. Stir before using; heat if desired. Delicious on virtually everything savory.
#vegan #veganrecipes #veganfoodshare #veganfoodporn #plantbased #plantbasedrecipes #plantbasedfoodshare #plantbasedfoodporn #vegannachos #plantbasednachos #veganasianfusion #plantbasedasianfusion #vegancubanfusion #plantbasedcubanfusion