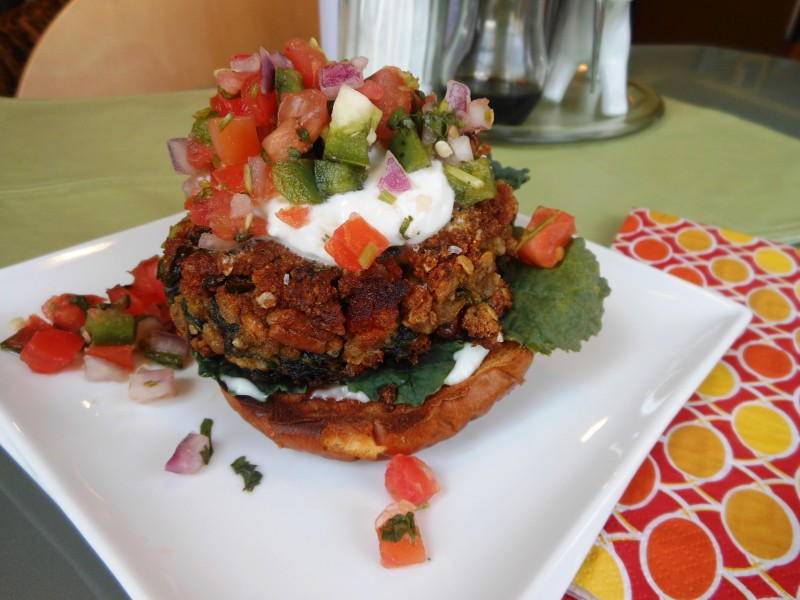 Yield: 2 burgers
My husband and I typically dine out three times a week: Date Night on Wednesday, and then Friday and Saturday.  Except for special occasions and opportunities, we stick to what we refer to as "The Rotation," which is a handful of ethnic restaurants very near our home that we cycle through about every couple of weeks: Chinese (unbelievably good Chinese), Mexican, Italian, Thai, and Vietnamese.  There are actually three Mexican/Fresh-Mex restaurants on The Rotation, so I end up with more Mexican leftovers than any other.
Our area has absolutely no vegetarian or vegan restaurants.  The two I can think of that tried to make it over the years were vegan, one raw–really excellent ones–didn't succeed.  So, especially in the Mexican restaurants which offer no dishes with tofu like the other restaurants–oh, how we wish we had a restaurant like San Francisco's Gracias Madre here!–I try to get the tiniest bit creative with my order so that my only option isn't a plate of rice and beans.  Because, as you know, even those dishes under the "vegetarian" section of the menu typically contain queso and crema.  Yes, they can be omitted, but then you're back to rice and beans.
One of the Mexican restaurants on The Rotation at least offers spinach, broccoli, and mushrooms–it is practically unheard of in these parts for a Mexican restaurant to serve a green vegetable that isn't a chili–so I order various combinations griddle grilled and served on top of my beans (the truth is that I'm not much of a rice eater: too many calories with too little nutrition).  Wednesday night, my order included onions, green bell pepper, spinach and tomatoes.  And I had about half of it leftover.
Restaurant portions are so huge that who doesn't come home with leftover, right?  And they tend to be good eats simply heated, but, yet again, I wanted something different, something more interesting, for my lunch on Friday (we were home again for three Snow Days last week!).  Since the base of all of my burgers is mashed beans, I decided to make a burger.  To them, I add chopped onion, celery, bell pepper, some kind of chopped nut, vital wheat gluten, old fashioned oats, nutritional yeast, and spice–the magic formula for a burger that tastes sensational and that holds together beautifully with a crave-worthy mouth-feel.
In this case, since my beans included some grilled veggies, I omitted my typical trio and then proceeded as usual.  For 4 burgers, I start with a 15.5 ounce can of rinsed and drained beans, or about 1 1/2 cups before being processed with the vegetables, which reduces all of their volume.   So, since my leftovers measured about 3/4 cup including the grilled veggies, that sounded like about half the amount of bean-vegetable mixture I typically start with, so I used half the amount of everything else which was perfect.  I used some roasted pecans I had on hand as the nut–delish–and minimal spice, just some ground cumin, salt and pepper.   Half a toasted pretzel roll (not very Mexican, but what I had and fantastic), a little mayo, baby kale leaves, and the pico de gallo that I had also brought home from the restaurant was all this burger needed to become a fiesta on my plate!
It may be my best burger yet…but I think that about all of my burgers.  Go out to eat, bring home some leftovers, and enjoy even more the second time!
3/4 cup refried beans (very smooth), with grilled onions, peppers and spinach (mostly refried beans)
1/4 cup finely chopped roasted pecans
1/4 cup vital wheat gluten
1/4 cup old fashioned oatmeal, uncooked
1 tablespoon nutritional yeast
1/8 teaspoon ground cumin
Sea salt and freshly ground black pepper to taste
vegetable oil
1 toasted pretzel roll, top and bottom (or bread/roll/bun of your choice)
2 tablespoons vegan mayonnaise
approximately 10 baby kale leaves (or the fresh green/lettuce of your choice)
approximately 1/4 cup pico de gallo
In a medium bowl, combine first 8 ingredients with a fork and then your fingers to make a fairly stiff, moist mixture with almost a cookie dough-like consistency.  If sticky, add a bit more vital wheat gluten.  Shape into two 3/4- to 1-inch thick patties.  In a cast iron skillet over medium high, heat a thin layer of vegetable oil and cook burgers for 3 to 4 minutes on each side or until golden brown, slightly crusty on the exterior, and heated through. Spread half a tablespoon of mayo on each roll or bun, and then top with half the kale leaves, the burger patty, another half tablespoon of mayo, and half the pico de gallo. Serve immediately.   Note: all Restaurant refried bean mixtures will, of course, vary somewhat in moisture, consistency, and spice, so vary remaining ingredients accordingly.