Presentation is everything, no?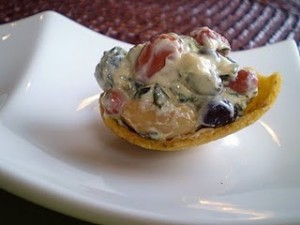 Recently, I needed to make a batch of my almost-famous Vegan Spinach-Three Bean Dip for a National Art Honor Society meeting. As my school's sponsor, I created it a few years back knowing how popular spinach dip is, but wanting the kids to have a protein boost in their afternoon snack. It was a huge hit and my students still ask for it.
For this month's meeting, I held a little back so that I could photograph it in a different guise than previously presented. In an earlier post, it looks as I intended: hearty and ready for the big game in front of the TV.
Here, I was going for a lighter and slightly more elegant presentation: a dollop in a Frito "Scoop." Given the humble makings of spinach dip, some folks may think that trying to dress it up is futile, but since we eat with our eyes first, to me it's like the difference between an ice cream scoop in a cone and one in a pretty parfait glass.
However you serve it, you're sure to love it.