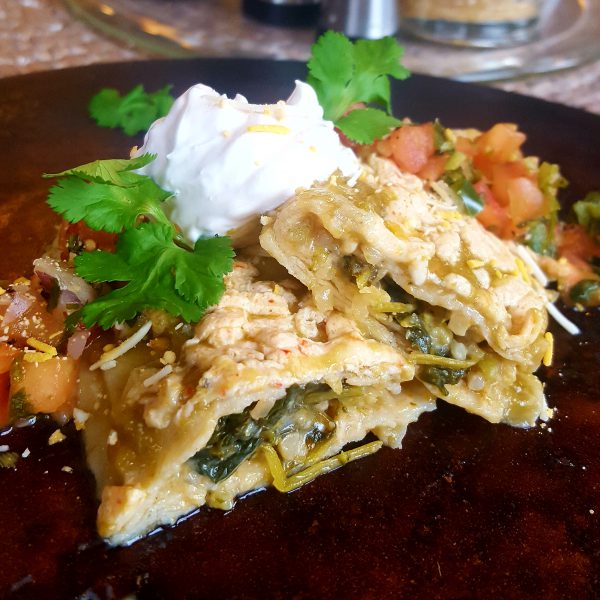 Yield: 8 enchiladas
Ordering vegan Mexican food in a restaurant here in Eastern Virginia is a bit tricky.  Enter my quick and easy homemade restaurant-quality vegan enchiladas.
It appears, in exchanges with other vegans, that simple foods we thought were safe–like refried beans–are not necessarily.   Apparently many restaurants still use lard in them, yet say they do not.  How much of that misunderstanding is language barrier-based, I'm not sure.  But I'd rather not take a chance.
As it turns out, these enchiladas include no beans at all.  They were inspired by spinach and goat cheese enchiladas I used to make as a vegetarian, a favorite for company from back in the day.
Vegan goat cheese in our area is expensive, so I used a combination of Tofutti cream cheese and Daiya pepper jack flavored shreds.  In addition to the baby spinach–for which you can substitute baby kale–I add a generous portion of a riced broccoli-cauliflower mix. I purchase it for convenience, but you can just pulse 4 ounces each of broccoli and cauliflower in a food processor until very finely minced.
For a sauce, feel free to make your own, but I love the Hatch brand mild green enchilada sauce.  If you are not a green sauce fan, red would be delicious too.  I was going for all green which, as it turns out, is appropriate for this Saint Patrick's Day post if you overlook the small detail that these enchiladas are not in the least bit Irish.  But they are every bit tasty.
1 tablespoon olive or vegetable oil
1 medium onion, diced
2 large clove garlic, minced
8 ounces riced broccoli-cauliflower mix (or make your own by pulsing 4 ounces of each in a food processor until finely minced)
8 loosely packed cups baby spinach or kale
1 teaspoon ground cumin (or more to taste)
1/2 teaspoon smoked paprika or your favorite chili powder like Ancho (or more to taste)
4 ounces vegan creamed cheese
2 cups shredded vegan cheddar, jack, or pepper jack cheese (or a blend; I use Daiya pepper jack), divided
8 gently warmed corn tortillas
1-15 ounce jar green enchilada sauce (mild, medium, or spicy; I use Hatch Green Chile Enchilada Sauce)
Toppings: vegan sour cream, pico de gallo, sprigs of fresh cilantro; optional: lime wedges and roasted pepitas
Oil a 9 x 13 inch casserole dish and set aside.  In a large skillet over medium heat, bring oil to shimmering.  Add onion and saute, stirring frequently, until softened.  Add garlic and saute, stirring frequently, for about 30 seconds.  Add riced vegetables and saute, again stirring frequently, for 5 minutes or so until they have softened, released their juice, and it has been evaporated.  Add spinach or kale, about 2 cups at a time, and cook, stirring, until it begins to wilt.  Repeat until all greens have been added.  Stir in cumin and smoked paprika.  Then stir in vegan cream cheese and 1 cup of the shredded cheese until melted. You can remove the skillet from the heat if mixture seems to be cooking too much, as the residual heat will melt the cheeses.
Preheat oven to 350 degrees.  Divide mixture evenly among the 8 tortillas, spooning it in a loose rectangle in the center of each and gently folding the sides toward the center, overlapping.  Cover the bottom of the prepared casserole dish with a very thin layer of the enchilada sauce and nestle each tortilla into the dish, sides touching with folded side down.  Spoon remaining sauce over the enchiladas, spreading to cover exposed areas of tortillas.  You may or may not have sauce left over.  Sprinkle top evenly with remaining cup of shredded cheese and bake for 20 minutes.  Remove from oven and serve topped with sour cream, pico de gallo, and cilantro sprigs along with optional lime wedges and roasted pepitas.