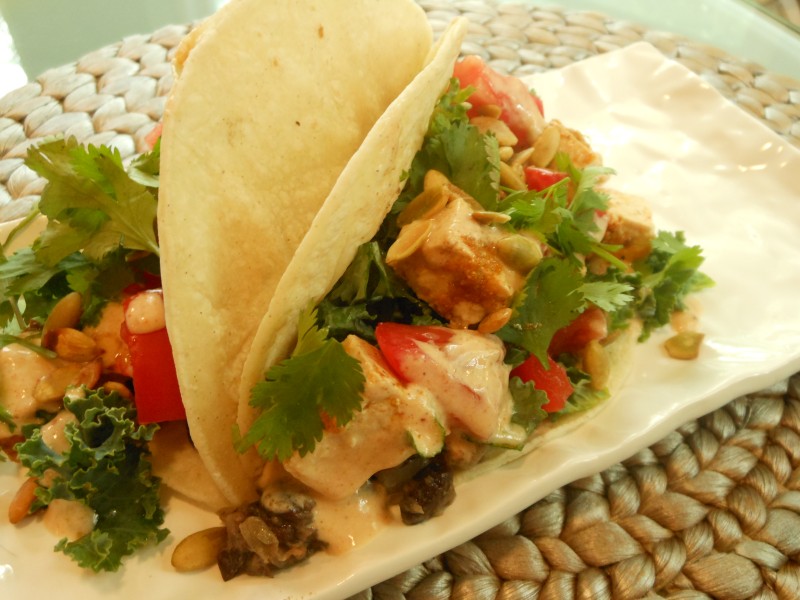 Yield: 8 overstuffed tacos (2 per serving)
Believe it or not, this recipe was inspired by a "bean bowl" I enjoyed from a southwestern concession at the Atlanta airport.  (And it is such a hit that Tofutti published it here!)
I ordered their orange tofu version with grilled veggies, black beans, cilantro, and salsa,  and the combination was outstanding…and not just because I was starving for something fresh on a day of travel!
I don't remember the terminal but the name of the establishment is Willy's Mexicana Grill and the tofu is unforgettable!  Hopefully I can find it again on my next layover at ATL.  In the meantime, I created my own (that is even more fabulous) to share with you!
I saute the tofu–but you could also bake or even grill it–to enjoy in my stuffed soft tacos,  the aforementioned bean bowl, a buritto, an enchilada, or however your heart desires.
Vegan Tacos with Chipotle Orange-Marinated Tofu
Chipotle Orange-Marinated Tofu (recipe follows–prepare the day before you plan to use)
1 can rinsed and drained black beans (I like to have these ready to go in advance, and I like to saute a small onion in a tablespoon of oil, add beans, heat through, and lightly mash leaving some beans whole)
8-6 inch corn tortillas
Approximately 2 cups tightly packed fresh, raw, stemmed kale leaves, finely chopped
2 Roma tomatoes, diced
Chipotle Orange Sour Cream (recipe follows)
1/2 cup loosely packed  fresh cilantro leaves
Approximately 5 tablespoons lightly salted and roasted pepitas (pumpkin seeds)
Lightly warm each tortilla shell in a dry skillet over medium-high for a few seconds on both sides.  Fold and place two on each serving plate, folds touching.  Fill each with 1/8 of the beans, kale, tofu, and tomatoes.  Drizzle with Chipotle Orange Sour Cream, and tuck in 1/8 of the tofu leaves.  Sprinkle with pumpkin seeds and serve immediately.
Chipotle Orange-Marinated Tofu
Juice and zest of one large navel orange
Juice and zest of one medium, lime
1 teaspoon ground cumin
1/2 teaspoon ancho chili powder
1/2 teaspoon smoked paprika
1/4 to 1/2 teaspoon garlic powder
1 teaspoon adobo sauce (from a can of chipotle chilies in adobo), or to taste (it's got some heat!)
1/4 cup olive oil
Sea salt to taste (don't skimp!)
Freshly ground black pepper to taste
14 ounces extra firm tofu, pressed and drained between paper towels, and cut into 12 cubes
1 tablespoon olive oil
Whisk together all ingredients together, except tofu and oil,  in a non-reactive bowl or carton, taste and adjust seasoning, add tofu, turn over a couple of times, and marinate over night, covered, turning occasionally if you think about it.  Heat a tablespoon of oil in a large cast iron skillet over medium-high, add tofu cubes and half of marinade (reserve remaining marinade), and saute without disturbing two to three minutes on one side or until lightly golden brown.  Flip, and cook two to three minutes more on the opposite side.  (It is not necessary to brown all 6 sides.)  Check, occasionally to make sure that tofu isn't browning too quickly but, if it is, adjust the heat.  When cool enough to handle, cut each cube into quarters.
Chipotle Orange Sour Cream
Reserved Chipotle-Orange Marinade
1/3 to 1/2 cup vegan sour cream (I like Tofutti Better Than Sour Cream)
Whisk together an refrigerate, covered, until serving time.
Here's a photo of my build-your-own-bowl from Willy's Mexcican Grill.  I chose black beans, the orange-marinated tofu, corn salsa, cucumbers, and fresh cilantro: