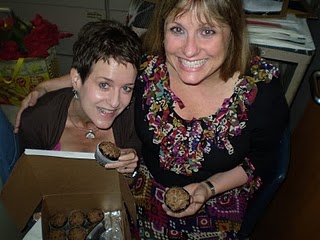 My dear, dear friend, Beth Camper, a National Board Certified English teacher at our school, feted me for my birthday today in a way to rival my mother! She emailed me to say she needed to "see me" and asked when she could come down. I was in a planning block, so I told her to come ahead. A very few minutes later, she appeared in my door with a bakery box full of perfect vegan German chocolate cupcakes and a copy of Bryant Terry's celebrated new cookbook, Vegan Soul Kitchen!
I was truly overwhelmed by her generosity and cleverness, especially since professionally baked vegan cupcakes are about as rare as polar bears in our area. When I asked her how she managed to procure them, she explained that she had called
Yorgo's Bageldashery
in Norfolk, VA, remembering that they employed a vegan pastry chef. It turns out that the pastry chef no longer works there, but they gave Beth her phone number and she tracked her down to ask if she'd bake a custom order, which she was happy to do. They were delicious–not too sweet or too gloppy with frosting. In fact, they were topped with a perfectly restrained amount of the traditional coconut-pecan frosting, veganized. I say "were" because there are none left.
The cookbook Beth had heard about on
"The Splendid Table"
which airs on Sundays on our public radio station,
WHRV
. I had heard the same broadcast and was smitten with the idea of the book. Beth told me that her good friend Mary went with her to purchase it and, as they were looking through it, Mary said, "This all looks like something I'd like to have with a pork chop." We both had a good laugh about that. I've never met Mary, but I know her from the stories Beth tells about her; she is one smart and funny woman. Actually, both of them are.
Since my poor husband had emergency oral surgery last night, I doubt we will be going anywhere tonight. But I still have had a wonderful birthday. Thanks to all for the cards, gifts, Facebook posts, and well-wishes, not to mention vegan cupcakes and cookbook. Not necessary, but very much appreciated.