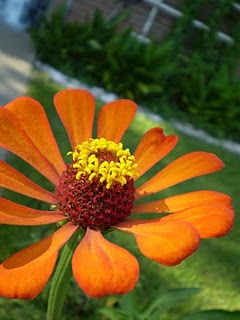 The other reason I haven't posted a recipe in what is surely about a month was a visit to see my family in Laurel, MS, immediately on the heels of my trip to Shenandoah National Park (see previous post).
My father's tomatoes were sweet and juicy and my mother's zinnias, as you can see from the photograph, a botanical fiesta!
I don't remember ever socializing quite so much with my parents' and sisters' friends, and it was delightful: a luncheon, happy hour at "the club," dinner and fireworks the next night, and cocktail parties at a couple of their friends' homes, one a beautiful contemporary on 40 acres in the country. My best friend since childhood still lives in Laurel and we did 4 mile walks every day. Years ago, we devised this efficient approach to catching up with each other's lives and getting a heck of a workout.
My mother is a genius at seeking out the best "Ms. Sippy" has to offer. The first day, she had me chauffer her and two friends to Simply TeaVine in Hattiesburg, MS, for one of lady's birthday luncheon. I told them I was "Driving Miss Daisy, Miss Petunia and Miss Tulip"! The destination was truly divine, located in a log cabin that had been in one of the owner's families for generations. They had stripped it down to its original bones and updated areas like the detached kitchen, adding a rustic-glam bathroom for guests of their B&B. I fell in love with little touches like the back lit milk bottles of hydrangea blossoms on our table and a real bird's nest with a tiny abandoned egg in a piece of furniture on the porch.
The meal was lovely. Mine, made specially for me because of my dietary preferences, consisted of wild rice with sauteed summer veggies, sweet and sour green beans, fresh-picked fruit salad and peach cobbler which they had made with non-dairy butter and no egg.
Mama is an adventurous cook and very supportive of my diet, as she has been since I first spurned meat in my teen years. She had devised a list of dishes she wanted to try which included, but wasn't limited to, a new gazpacho recipe (a hit!), eggplant roll-ups with vegan ricotta (another hit, even with my sister and father who, as he says, doesn't "wake up screamin' for eggplant"), a veganized version of a peach cobbler made from peaches she got at the new local Farmer's Market (and shhh!) white bread–you'd never know it thanks to plenty of Earth Balance, sugar and such–(it was delicious) and a veganized version of her favorite lemon ice cream to inaugurate the Cuisinart ice cream maker I had given them. We made it the last night and I didn't get to try it, but Mama reports by phone that it was a big thumb's up. Despite all of the home cooking, she even worked in lunch at a Thai restaurant she had sniffed out also in Hattiesburg where she needed to go for a doctor's appointment. There are too many of those these days, but nothing much slows her or my dad down. He's still working at age 82!
The final unexpected treat was running into a long-lost high school friend at the Jackson airport where I fly in and out of. As the barrista was handing me my green tea soy frappucino, I heard a male voice say, "Will you bake me a pie?" My response to the handsome man about my age was, "Sure…but who are you?" It was Lee Fuller, one of the best guys in high school and who, after we had chatted for 45 minutes, evidently still is. The pie question was in reference to him frequently, as my mother recalls, "standing on the front porch with a cake mix" needing something for his Phi Kappa bake sales (I was one of the fraternity's "Little Sisters").
Here's to wonderful families and friends and to fresh food in the deep fried Deep South!