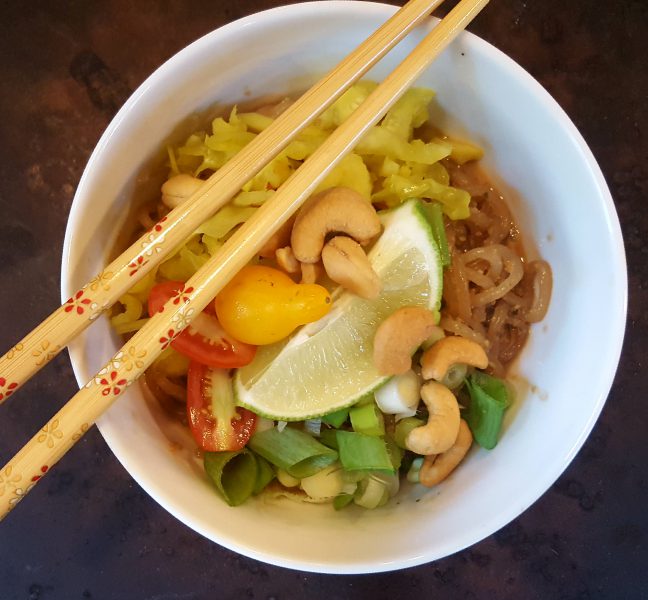 Yield: 2 servings (easily multiplies)
Vegan friends, prepare to have your pasta-loving lives changed.
Recently, I fell in love with vegan Dan Dan Noodles, both at V Street in Philadelphia and at Forbidden Bistro, our favorite Chinese restaurant here in Virginia Beach.
The problem for me and the reason I had probably never ordered Dan-Dan before is not finding vegan noodles, but all of the calories in any kind of noodle. The dish at V Street was the perfect "gateway" though, as it was a dimuntive tapas portion.  So when I noticed them on  the Forbidden Bistro menu,  I talked myself into ordering them, but I made more than one meal out of their dinner entree.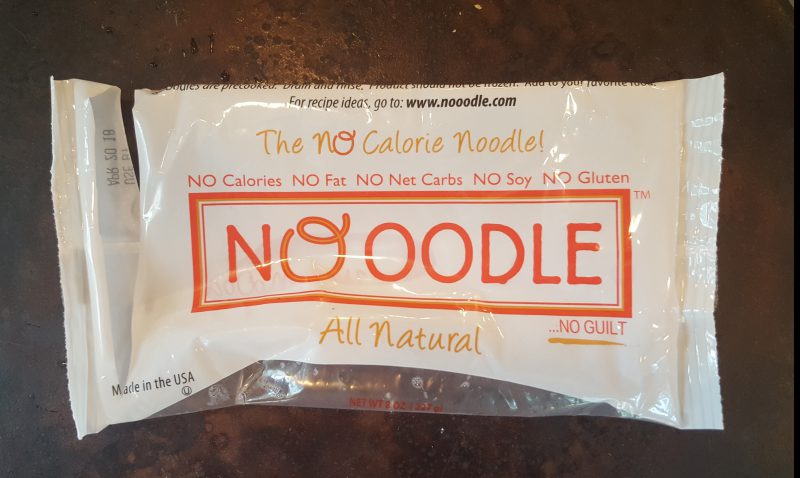 As for solving the problem of noodles and all of their calories, enter the amazing No-oodles, a thin, slightly curly, tofu-free shirataki. They have O CALORIES. That's right. None. Nada. Zip.  Feel free to use any brand of shirataki in this recipe, including the type made with tofu, which has a few calories.  But I prefer the No-oodles, as their size and shape seems more Dan Dan-like than fetuccine-like.
Locally, I found No-oodles last weekend at a small, niche natural market called Organic Depot. After you read the list of what No-oodles don't include–dairy, gluten, carbs, calories, etc.–you will wonder what they do include. And that is simple: water, yam flour, and lime.  Somehow, they are delicious and don't break down when simmered.  But they lack nutrition of any kind, so you obviously have to be sure to enjoy them with accompaniments that are full of vitamins, minerals, and protein.
Dan Dan is traditionally served with julienne cucumbers, scallions, and lime.  But I subbed other ingredients that I had on had for the cuke: tricolor pear tomatoes and a delicious naturally fermented curry-flavored sauerkraut from Whole Foods that included cabbage, carrots, and cauliflower.  A vegan Kimchi would be really nice too.
I researched recipes and ultimately decided to tweak one I found online from Food and Wine.  It, and the others, called for frying the peanuts for the sauce, which sounds delicious  ut messy.  So I simply chose already roasted peanuts, the same amount of oil, and skipped the frying step because oil isn't a problem for me when the noodles have no calories.  Though I put peanuts in the sauce, as called for by tradition, I garnished tge dish with a few cashews because I love them so.
Honestly, I could eat this dish every day.  And it's so easy, quick, and healthful that there's no reason not to.  Hmm…
Note: if you want to make Dan Dan Noodles with Tofu, cut 14 ounces of firm or extra firm tofu into cubes and marinate in sauce for an hour or so before removing with a slotted spoon, sauteing in an oiled skillet–or baking/broiling–and spooning over the completed dish.
low
Dan Dan No-oodles
1/4 cup peanut oil (vegetable oil will work in a pinch)
1/2 cup roasted and lightly salted peanuts (or cashews)
1 small jalapeño, stem, ribs, and seeds removed (wash hands after) or 1 teaspoon Asian fire oil (hot, spicy oil)
1 large garlic clove, halved
1/2 teaspoon minced ginger
2 1/2 tablespoons soy sauce
2 tablespoons water
1 1/2 tablespoons rice vinegar
1 tablespoon fresh cilantro leaves or 1 teaspoon dried (optional)
1 tablespoon Sriracha chili sauce
1 tablespoon sugar (I like coconut sugar in this dish)
1 teaspoon Asian sesame oil
Sea salt to taste if needed (I don't feel the dish needs extra salt, but it depends on your peanuts)
2-8 ounce packages No-oodles or Shirataki (if the latter is made with tofu, some calories will be involved), drained
Garnish (choose any or all): Julienne cucumber, Asian-compatible sauerkraut (I use a curry variety with cabbage, carrot, and cauliflower from Whole Foods) or Kimchi, sliced scallions, lime wedges, sesame seeds, lightly roasted and salted cashews, sprigs of mint or cilantro
Simply place all ingredients except pasta and garnishes in a food processor–I used my small processor for one recipe–and process until smooth.  Scrape into skillet and warm over low or medium heat.  Add No-oodles, stir gently, and simmer until noodles are heated through.  Serve in bowls topped with the garnishes of your choice; go for contrasts in color and texture.  Enjoy with chopsticks.