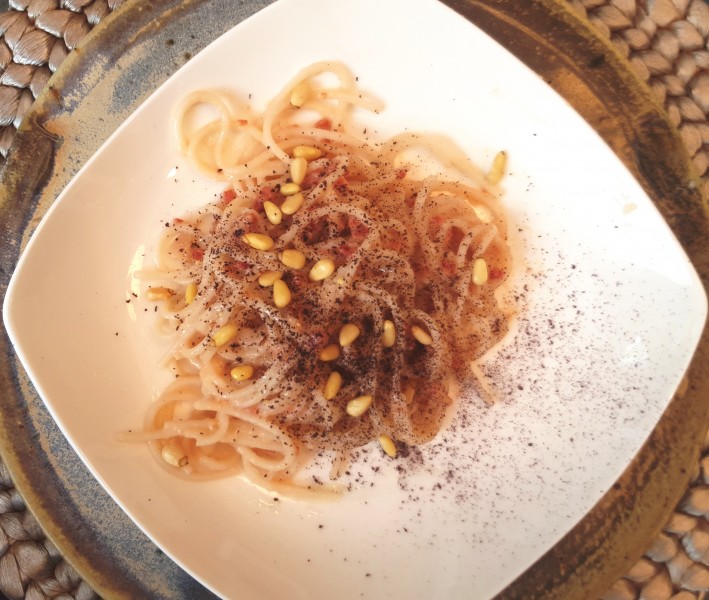 Yield: 4 servings
Ever since my husband suddenly passed away on July 30, friends have thought of the loveliest ways to nurture me, mind, body and soul.
Janie Jacobson Craig, known for her healthy cooking classes once taught out of the Kitchen Barn and now out of her stylish contemporary beach home, wanted me to join her to make this cleaned-up carbonara using corn cream.
I was intrigued, but I asked her if she would come to our house because leaving home some days made me feel untethered in an unplesant way.  So, she loaded up her basket with the ingredients and over she came.
The idea for the "cream" is a sensation; thank you Tim Maslow!  As for the rest of the recipe, which called for bacon and crab, we substituted vegan bacon and pinenuts for their pale color and sweetness.  To suggest a briny hint of the sea, we chose a sprinkling of dulce flakes.
I will definitely be makign this easy, elegant dish again and I hope you will.
1 pound pasta (we used a quinoa variety from Whole Foods)
7 ears corn, uncooked
2 tablespoons vegan butter
1/4 pound vegan bacon, chopped and cooked or crisped according to package directions; set aside
2 shallots, minced
2 large cloves garlic, sliced
1 tablespoon lemon juice + zest of 1 lemon
Sea salt and freshly ground black pepper to taste
Olive oil
1/2 pound pine nuts
approximately 2 teaspoons dulce flakes
In a large stock pot over medium high, heat generously salted water to boiling.  Add pasta, return to a gently boil, lower heat, partially cover, and cook until al dente (time will vary depending on the type of pasta).  Drain, reserving 2 cups of pasta water.
Meanwhile, make sauce.  Slice kernels from cobs and place in a food processor.  Run the blade of the knife along the cob over the food processor bowl to remove any remaining milk.  Process corn until smooth and then pass through a seive, pressing on solids. Reserve cream and save pulp for another use.  In a large cast iron skillet over medium-high, melt butter.  Add shallot and saute, stirring, for a couple of minutes or until softened.  Add garlic and continue sauteeing and stirring for another 30 seconds.  Add cooked pasta, corn "cream," 1 1/4 cups water, and lemon juice.  Cook 3 to 5 minutes or until creamy and thickened.  Add more of the pasta water if necessary to reach the desired consistency.  Fold in vegan bacon and season to taste with salt and pepper.  Serve lightly drizzled with olive oil and garnished with pine nuts, lemon zest and dulce flakes.