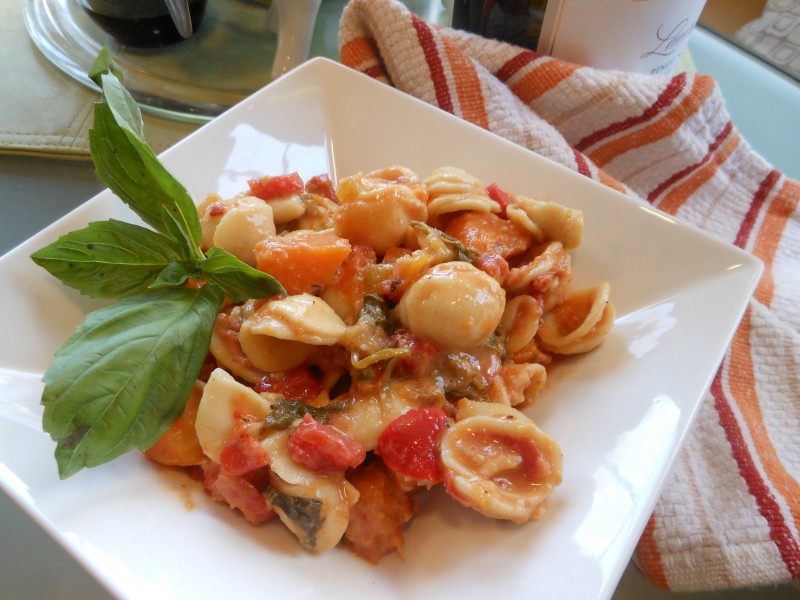 Yield: 4 servings
I know it's the first day of spring, but if you'll allow me one more fleeting cold weather recipe, I think you'll be glad you did!
This is my final taste test and recipe inspired by a bountiful box of vegan cheeses sent to me by the good folks at GO Veggie!  If, like me, you thought all of their products were vegetarian, but not vegan, we were wrong.  Just look for the purple label and consult their store locator on their website.
I had used the GO Veggie! Dairy-Free Parmesan Grated Topping in my luscious Vegan Cheesy Artichoke Dip with Greens, Mushrooms, and Water Chestnuts, but there it was mixed with other cheeses.  Here, it is the only cheese, so its flavor had to be exactly right and it was!
A very few other recipe notes:
1)  Use any kind of pasta you choose for this recipe.  I love orecchiette  because each little ear-shaped piece of pasta is like a miniature cup to hold the scrumptious sauce.  But if you have other pasta on hand, you needn't purchase more.
2)  Butternut squash is creamy, delicious, and helathful, but a whole fresh one can be a bit unweildy to prepare.  I find that a serrated knife can sometimes be more effective than a chef's knife for removing both ends because the "teeth" really bite in.  And the skin is most efficiently removed with a vegetable peeler rather than a knife.  I cut off the neck of the squash and deal with the neck and bulbous base separately.  For this recipe I used only the neck flesh.  I seeded the bulbous base with a spoon, cut it into wedges, stored it in an airtight container in the refrigerator, and roasted it a few days later for a delectable Coconut-Red Curry with Roasted Butternut Squash and Tofu.
3)  Finally, just remember to save some of the pasta water when you drain the pasta, as that starchy water is the magic sauce thickener/silkener.
Enjoy!
8 ounces orecchiette  (I usually cook the whole 12 ounce box and remove one-third of the cooked pasta for pasta salad)
1 tablespoon olive oil
2 cups peeled and cubed butternut squash
Sea salt
1/2 large bell pepper, stemmed, seeded and diced
2 large cloves garlic
1-14 to 15 ounce can fire roasted diced tomatoes with juice
1 to 2 ladlesful pasta water
1/4 cup plain nondairy creamer (soy or coconut milk)
2 tablespoons dry white wine (I use Pinot Grigio)
2 cups firmly packed baby kale leaves
1/4 cup GO Veggie! Dairy-Free Parmesan Grated Topping plus extra for topping if desired
Freshly ground black pepper
4 sprigs fresh basil
Bring a large pot of salted water to boil over medium high.  Add pasta, stir, partially cover, return water to a gentle boil, and reduce heat to a simmer.  Cook pasta according to package directions, usually 8 to 12 minutes.  Remove 2 ladlesful (about 1 cup) of pasta water into a heatproof bowl and set aside.  Drain pasta.
Meanwhile, heat 1 tablespoon olive oil over medium-high in a large cast iron skillet.  Add butternut squash and a pinch of salt, toss to coat, and then spread into a single layer.  Cook approximately 12 to 15 minutes or until squash is tender but still holds its shape and starts to develop a little caramelization, stirring occasionally to prevent sticking.  Add bell pepper, and saute, stirring frequently, for about 3 minutes or until softened.  Add garlic and saute, stirring, for about 30 seconds.  Stir in tomatoes and heat through.  Stir in 1 ladleful (about 1/2 cup) of pasta water and heat mixture until simmering.  Stir in creamer and white wine, heating through.  Thin sauce, if desired, at any point with remaining ladleful of water.  Sprinkle kale on top of mixture and allow it to start to wilt.  Then gently fold it into the sauce along with 1/4 cup GO Veggie! Dairy-Free Parmesan Grated Topping and the drained pasta.  Season to taste with salt and pepper and serve immediately topped, if desired, with additional parmesan cheese and a sprig of fresh basil.