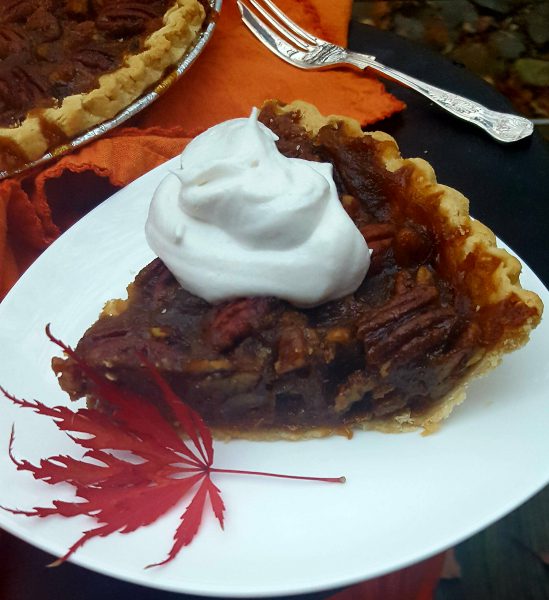 If a traditional pecan pie–with even more pecans–is what you crave, this pie is perfection and as easy as, well, you know.
Most recipes call for 2 cups–or even just 1 1/2 cups–pecans. Why?  Mine calls for 3 for the best filling-nut ratio. This is no time to skimp.
A week ago, I published my other favorite pecan pie, though that one has a more custardy texture, as it is made from a tofu and cornstarch-based custard. Bob the omni liked that one but he much prefers this one, which he eats with his chocolate ice cream that is always in the freezer. He did admit that another flavor of ice cream would be optimal.
So serve either pie with vegan vanilla ice cream and/or vegan whipped cream–perhaps a little drizzle of brandy or bourbon–enjoy, and then let us know what you you think. Happy Holidays!
Note: If you eschew booze, just replace it with 3 tablespoon water and 1 tablespoon of fresh lemon juice, as Veganegg has a somewhat pronounced, slightly savory, flavor that needs countered with the assertive flavor of alcohol or with an acid.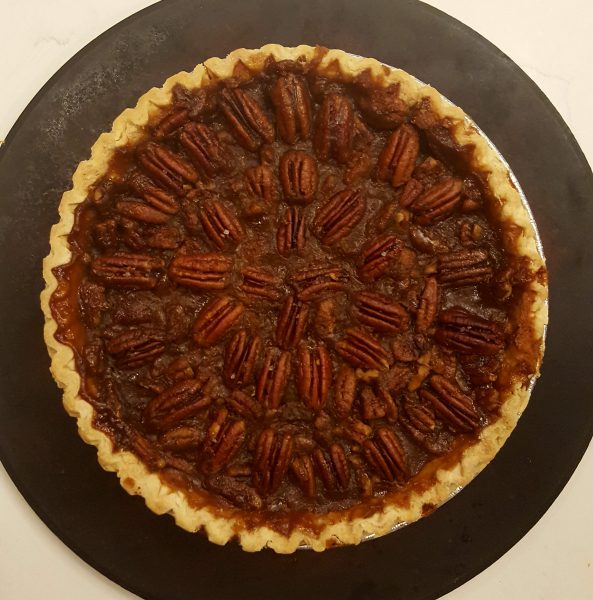 1 prepared vegan pie crust, homemade or purchased
1 1/2 cups pecan pieces
1 1/2 cups pecan halves
Non-stick spray
1/2 teaspoon sea salt
6 tablespoons Veganegg
3/4 cup water
1/4 cup brandy or bourbon
3/4 cup maple syrup
1 cup demerrera sugar
3 tablespoons melted vegan butter
2 tablespoons molasses (not blackstrap)
1 teaspoon vanilla extract
1 teaspoon almond extract
1/2 teaspoon sea salt
Topping: vegan vanilla ice cream, vegan whipped cream like So Delicious Cocowhip
Set out pie crust if frozen. Preheat oven to 350 degrees. Spread pecans in a single layer on a baking sheet, spray with nonstick spray, sprinkle with 1/2 teaspoon sea salt, and toast for 3 minutes.  Remove from oven and set aside to cool.
In a large bowl, whisk together Veganegg with water and brandy or bourbon. Whisk in all remaining ingredients. Set aside 32 pecan halves and spread all the rest into pie crust. Sprikle with sea salt remaining on baking sheet.  Place pie pan on baking sheet, pour filling evenly over the top. Decorate the top with concentric rings of pecan halves and bake for one hour. Pie will seem quite "loose" but will firm up as it cools.  Because of this, you may need to gently reposition some of your decorative pecan halves.
Cool completely, cover, and chill for a couple of hours.  Serve topped as desired.