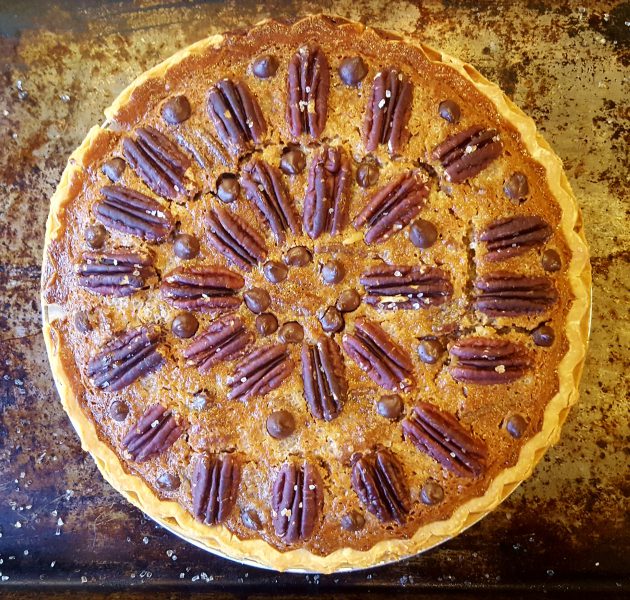 I got inspired AFTER Thanksgiving to experiment with pecan pie. The one at our repast was not vegan, so I couldn't partake.
On a recent trip to Duck, NC, Bob had a scrumptious pecan tart with bourbon ice cream and salted caramel sauce which I had to taste for research purposes. I felt the caramel sauce was overkill. And I knew I wasn't going to make ice cream just due to time, so I added the booze to the pie and served the slices with purchased vegan vanilla ice cream. Yes, please.
The question for vegan pecan pie bakers is silken tofu or no?  I say yes, as I was never a fan of syrupy pecan pie. So, I like the slightly more custardy texture of this one, which slices beautifully.  I hope you do too.
As I mentioned, this pie is addicting served with softened vegan vanilla ice cream. And while I deemed the caramel sauce too much of a good thing, everyone will look the other way if you drizzle a hint more brandy or bourbon over the top.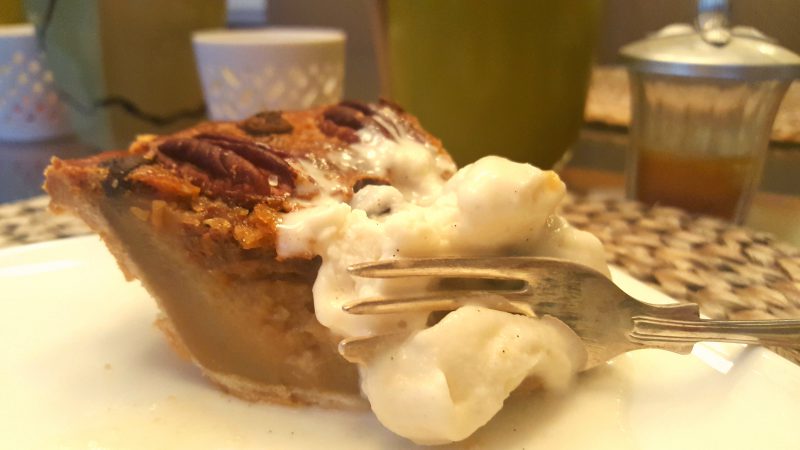 1 prepared vegan crust

3 cups

whole pecans

Coarse sea salt

6 tablespoons

vegan butter

1

cup

 demerrera 

sugar

¾

cup

 maple syrup
1 tablespoon dark molasses

4

tablespoons

cornstarch

2 tablespoons flour

½

teaspoon

 sea 

salt

3 tablespoons brandy or bourbon
Juice of half a medium-large lemon (about 1 1/2 teaspoons)

1

teaspoon

vanilla

1 teaspoon almond extract

1

cup

 soft 

silken tofu

Optional: a few vegan chocolate chips
Flaky or coarse sea salt
Heat oven to 350 degrees. If pie crust is frozen, remove from freezer.  Spray a baking sheet with non-stick spray, spread pecans in a single layer on sheet, sprinkle very lightly with sea salt, and roast in oven for 3 minutes.  Set aside, but leave oven on.
In a medium saucepan, combine the vegan butter, sugar, corn syrup, molasses, corn starch, flour, and sea salt.  Stir and cook over medium heat until mixture comes to a boil. Reduce to a simmer and cook, stirring, for another minute. Remove from heat and stir in brandy or bourbon, vanilla, and almond extract.
In a food processor, process the silken tofu until smooth. Add the maple syrup mixture and pulse again well combined. Reserve 28 of the pecan halves, add half of the remaining pecan halves, and break up the temaining ones as you add. Use a spatula to gently swirl them into the filling. Transfer filling to pie shell. Arrange the reserved pecans on top of the pie in two concentric circles. Dot with chocolate chips if desired.
Place pie on a baking sheet on the middle rack of your oven and bake for about one hour, until the crust is nicely browned and the edges of the pie are set. The center might still be a very slightly jiggly. Remove from oven, sprinkle with just a hint of flaky sea salt like Maldon or just a nice coarse variety and allow to cool completely before serving.
Serve with softened vegan vanilla ice cream (I like So Delicious No Sugar Added) or vegan whipped cream.