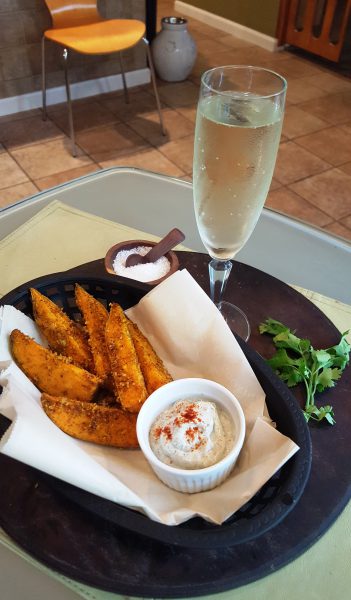 Yield: 4 appetizer servings (6 wedges each)
A couple of nights ago, I had "French Fries and Champagne" for dinner.  Don't judge.  I'm a widow in need of the occasional comfort food…and, besides, I had kale, carrots, and fruit earlier in the day.  I only ate a few, so a friend and fellow-widow is coming over tonight to join me for a bike ride and leftovers.
Driving home the night before and listening to "Out of the Box," Paul Shughru's award-winning "new music" show on our local NPR affiliate, WHRV, he played The Hot Sardines "French Fries and Champagne."  And that nostalgic 40's-infused suggestion was all I needed.
To arrive at my version–which is roasted, not fried–my imagination went to favorite champagne food pairings, especially Indian or Thai with my all time favorite, Prosecco.  Thinking that an Indian flavored dry spice rub would be easier to create than one with Thai flavors–which seemed to rely more on fresh herbs that would burn at the high roasting temperature–I decided on sweet potato wedges with a golden Indiean spice rub mixed with Panko bread crumbs for a bit more crunch.
For a dipping sauce, any Indian chutney whisked into vegan sour cream or vegan yogurt (if you can find an unsweetened version, which we can't in our area) is perfection, perhaps with a a few sprigs of cilantro on the side, if you're a cilantro-lover.
In truth, I don't actually recommend only french fries and champagne for dinner…at least not often.
1 tablespoon olive oil
2 medium sweet potatoes, cut in half lenghtwise, then crosswise, then each section cut into 3 wedges to yield 12 wedges per potato
Pinch of sea salt
1/4 to 1/2 cup Panko bread crumbs
1/2 teaspoon sea salt
1/2 teaspoon ground coriander
1/2 teaspoon cumin
1/2 teaspoon garlic powder
1/2 teaspoon onion powder
1/4 teaspoon smoked paprika
1/4 teaspoon turmeric
1/8 teaspoon freshly ground black pepper
2 tablespoons any vegan chutney (mango, mint, cilantro, etc., found in supermarkets or Indian/International markets)
4 tablespoons vegan sour cream (or vegan plain yogurt or mayo if you prefer)
Garnish: fresh cilantro sprigs, if desired, and champagne, Prosecco, or other sparkling wine
Preheat oven to 450 degrees.  Drizzle baking pan with olive oil, add potato wedges, toss lightly to coat, sprinkle with 1/8 teaspoon salt, and toss again.  Roast for 20 minutes, stirring or turning about ever 6 or 7 minutes.  Meanwhile combine bread crumbs in a small bowl with ground coriander, cumin, garlic and onion powders, smoked paprika, turmeric, and black bepper.  Remove potatoes from oven, sprinkle with bread crumb and spice mixture, stir to coat, and return to the oven for another 10 minutes, stirring after 5.  (Note: if you prefer your potato wedges really crispy and caramelized, roast them for 25 to 30 minutes before adding the crumb mixture and roasting another 10.) Meanwhile, prepare dipping sauce by whisking together chutney with vegan sour cream in a small bowl.  Remove potatoes to a serving bowl or platter–I like to use a parchment paper- or napkin-lined plastic "burger basket"–sprinkle with any crumb mixture that remained in the pan and serve with dipping sauce,  fresh cilantro sprigs, if desired, and champagne.