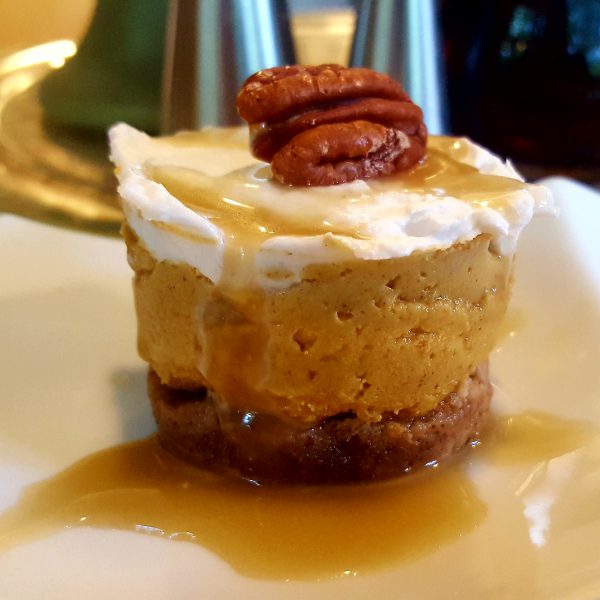 Yield: 12 mini cheesecakes
Vegan Almost Raw Mini Pumpkin Cheesecakes…this one for the win!
I promised I would be back with you when I had refined my recipe for vegan pumpkin cheesecake enough to share with all of you vegan aficionados. I am thrilled to say my most recent taste test is a keeper! And NO baking reqired.
Plus, I got smart, and purchased a mini cheesecake pan at the kitchen Barn so that I could make partial recipes and not have huge cheesecakes sitting around.
I went a completely different route this time with an unbaked version. I can't call it completely raw, though, because, of course, the canned pumpkin puree is cooked at the factory and I simmer the sauce to thicken it. But I am not a raw vegan anyway, so it doesn't matter.
This cheesecake goes together so quick and easy and is beautiful enough for company. So put it on your holiday menu and impress your friends with both the taste and the appearance. Regarding appearance, be sure to press each layer down firmly or you will end up with a few air bubbles as I did. Still, I think it was ready for its close-up. You?
This recipe requires a 12-cup mini-cheesecake tin with removable bottoms.
Note: when coconut milk cans are shaken, you want to only hear a little sloshing indicating semi-solid cream at the top.
Crust:
1/2 cup raw pecan halves or pieces
2 tablespoons unsweetened grated coconut
2 pitted medjool dates
2 tablespoons maple syrup
1/2 teaspoon ground ginger
Process in food processor until mixture is texture of course cookie dough. Divide evenly among 12 mini-cheesecake cups and press firmly and evenly into bottoms.
Filling:
2 cups raw cashews
3 cups water
1/4 cup canned pureed pumpkin
1/4 cup maple syrup
2 teaspoons pumpkin pie spice
1/2 teaspoon almond extract
1/2 teaspoon vanilla extract
1/2 cup semi-solid cream from top of 2 cans full-fat coconut milk (remaining tablespoons from second can will be used for sauce)
"Caramel" Sauce
Lightly salted and roasted pecan half
Heat cashews for 10 minutes on high power in large bowl in microwave. Drain and process in food processor until an almost smooth dough-like consistency forms. Add pumpkin, syrup, spice, and extracts and process until smooth, thick and creamy. Divide evenly among mini-cheesecake cups, pressing firmly and smoothing tops. Then divide coconut cream among each, also smoothing tops. Refrigerate 8 hours or overnight. Remove mini-cheesecakes from tin and serve each with a drizzle of "caramel" sauce and a roasted pecan half.
"Caramel" Sauce:
1/4 cup semi-solid cream from second can full-fat coconut milk
1/4 cup maple syrup
Optional: 1 teaspoon brandy, bourbon, or cognac
Vigorously simmer cream and maple syrup together over medium heat until thickened, about 3 minutes. Remove from heat and stir in alcohol if using. Cool to warm before drizzling over cheesecake.
Garnish:
12 lightly salted roasted pecan halves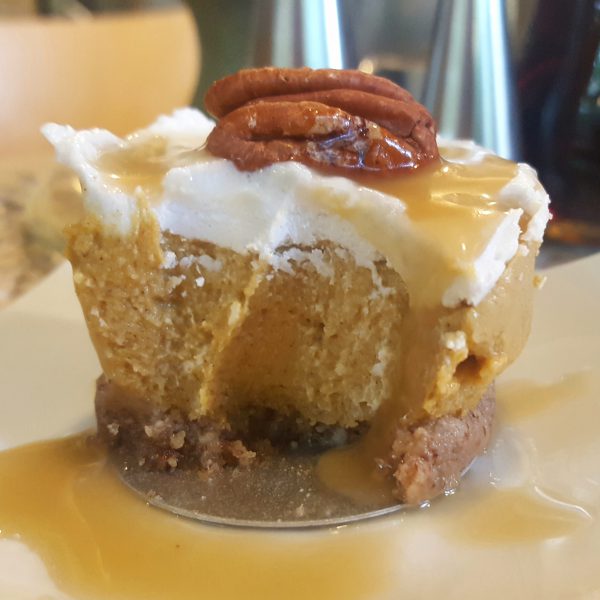 #vegan #veganrecipes #veganfood #veganfoodshare #veganfoodporn #plantbased #plantbasedrecipes #plantbasedfood #plantbasedfoodshare #plantbasedfoodporn