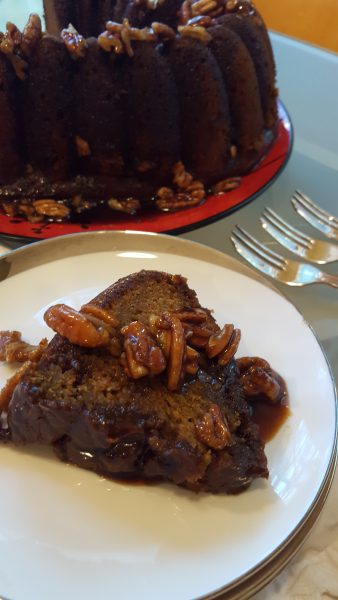 If gingerbread and pumpkin cake got together on a booze-infused evening, this "baby" is what they would conceive.
Moist and deeply spiced, it is a carnivore-approved hit with one and all, regardless of dietary preference. I adapted a favorite spice cake recipe of mine that called for natural cola, substituting pumpkin ale, adding pureed pumpkin, and otherwise tinkering. I enjoy it with a little dollop of Coco Whip as a fluffy contrast to the richness of the cake.
Pumpkin Ale Spice Cake
2 1/2 cups all purpose flour (I use white whole wheat)
2 teaspoons baking powder
2 teaspoons ground cinnamon
1/2 teaspoon ground cloves
1/2 teaspoon sea salt
1 cup granulated sugar (I use demerara)
1/2 cup real maple syrup
1/2 cup molasses (dark or light, but not blackstrap)
1/2 cup unsweetened soymilk (plain would also be fine)
1 15.5 ounce can pureed pumpkin
1 cup canola oil (or other mild vegetable oil)
1 cup pumpkin ale or hard cider (I used Harpoon Pumpkin cider)
1 tablespoon vanilla extract
1 teaspoon baking soda
Salted Pecan Caramel (optional)
Preheat oven to 350 degrees. Grease and flour a bundt pan. In a large bowl, combine all of the dry ingredients, except baking soda, make a well in the center, and add all wet ingredients, except ale. Whisk to completely combine. In a small bowl or cup, whisk soda into ale. It will fizz up. Quickly whisk into batter until completely incorporated. Transfer the batter into prepared bundt pan and bake for approximately 45 minutes or until a wooden pick inserted in the center comes out clean. Remove to a wire rack, and cool for about 15 minutes. Loosen around all edges with a knife, being careful not to slice into the cake. (I use a plastic knife, as my pan has a non-stick surface, but I still grease and flour it!) Place serving plate over the top of the pan and invert the cake onto the plate. Let cool and then glaze if desired. I recommend letting the glaze soak into the cake overnight before serving.
Salted Pecan Caramel
1 cup sugar
1/4 cup water
6 tablespoons vegan butter
1/2 cup plain soy creamer (or your favorite non-dairy creamer)
1/8 teaspoon sea salt (or to taste)
Optional: 1 tablespoon rum, brandy, favorite liqueur
1/2 cup pecans
In a heavy-bottomed 2 quart saucepan, heat sugar and water over medium-high. Whisk vigorously as it begins to melt. Once the mixture is boiling and amber colored (if you use demerara, it starts out amber colored), whisk in butter until melted. Remove pan from heat, count to three, and slowly whisk in the soy creamer, salt, and optional alcohol. When smooth, allow the caramel to cool for a couple of minutes and then transfer to a small cup or bowl and let cool until a thick pourable consistency. Drizzle or spoon over the cake. You may either stir the pecans into the mixture before drizzling or sprinkle them over after the cake is glazed.