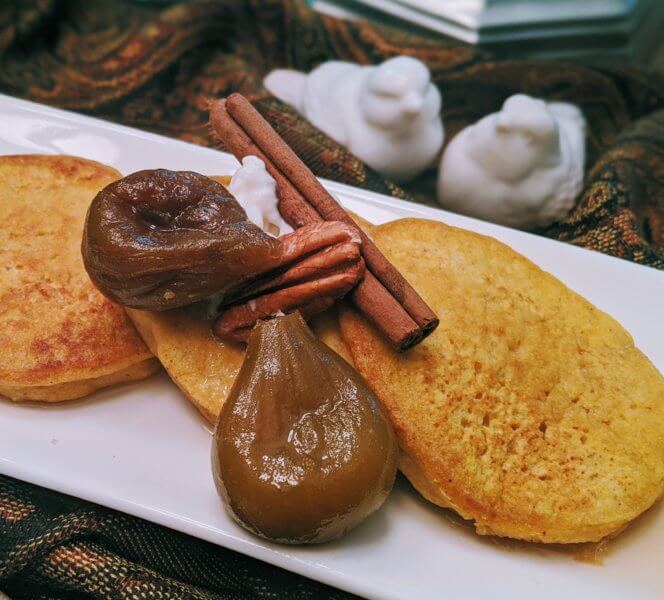 Yield: 8 silver dollar pancakes (1 or 2 servings)
This healthy take on pancakes is ready before your craving makes you hangry! Though pumpkin calls autumn to mind, I love them on a midsummer morning. And you won't miss the oil, sugar, or egg replacer.
1/2 cup all purpose flour
2 tablespoons canned pumpkin puree
1 tablespoon granulated stevia
1/2 teaspoon baking powder
1/2 teaspoon baking soda
1/4-1/2 teaspoon pumpkin pie spice
Pinch sea salt
1/2 cup non dairy milk (I use flax with protein)
Topping of choice (For the photo, I used delicious spiced figs made by a friend, a dab of vegan sour cream, a pecan half, and a cinnamon stick)
In a small bowl, whisk all ingredients together. Preheat skillet sprayed with non-stick spray to medium-high. Using about 1/8 of the batter, create 4 small disks about 2-inches in diameter and 1/4 inch thick. Cook a couple of minutes on each side until golden brown, slightly puffed, and cooked through. Repeat with more non-stick spray and remaining batter. Top as desired and serve immediately.
#sugarfree #oilfree #veganpancakes #plantbasedpancakes #pumpkinpancakes #vegan #veganrecipes #veganfoodshare #veganfoodporn #plantbased #plantbasedrecipes #plantbasedfoodshare #plantbasedfoodporn