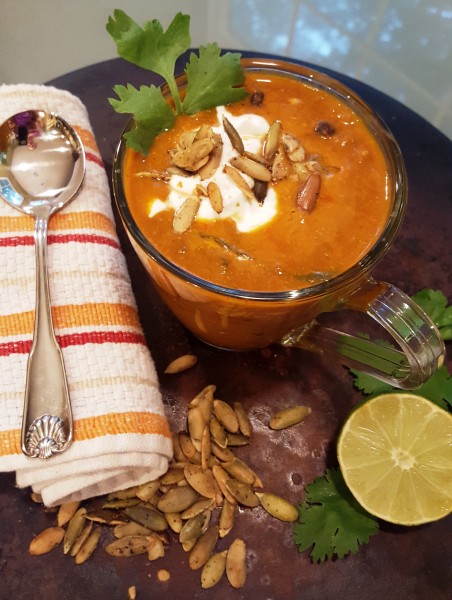 Yield: 4 to 6 servings
This rich, smoky and healthy bisque is perfect for a day like today in Eastern, Virginia: cool, rainy, and a bit dreary.  This soup will warm you from the inside out and brighten the darkest of days and nights which come so early this time of year.
1 tablespoon olive oil
1 medium onion, diced
7 ounces vegan chorizo (I use a half a package of Trader Joe's brand)
2 large cloves garlic, minced
Optional: 2 tablespoons nutritional yeast (adds richness and depth of flavor)
1 tablespoon adobo sauce froma can of chilies in adobo
1 teaspoon ground cumin
1 teaspoon smoked paprika
12 ounces flavorful vegan beer (check out Barnivore for an A-Z list of vegan beer, wine and liquor)
1-15.5 ounce can pureed pumpkin (not pumpkin pie mix)
1-15.5 ounce can black beans, drained
3 to 4 cups fresh baby kale
2 cups vegetable stock or broth
Juice of 1/2 medium lime
Opttional: 1/4 cup vegan cream cheese or your favorite nut cream
Toppings: fresh cilantro leaves, roasted pumpkin seeds, sliced avocado, halved grape tomatoes, vegan sour cream or more nut cream, etc.
In a large Dutch oven, heat olive oil over medium-high.  Add onion and saute, stirring frequently, for a couple of minutes.  Add chorizo and garlic and continue sauteeing and stirring for another couple of minutes.  Lower heat if the onion or garlic starts to scorch.  Stir in all remaining ingredients, except lime juice, until well combined and simmer, stirring occasionally, for about 20 to 30 minutes to allow flavors to combine. Stir in lime juice and serve warm topped as desired.